Harnessing Big Data
Big Data is revolutionizing marketing from the way brands connect with consumers to the need for a new breed of marketers skilled in analytics.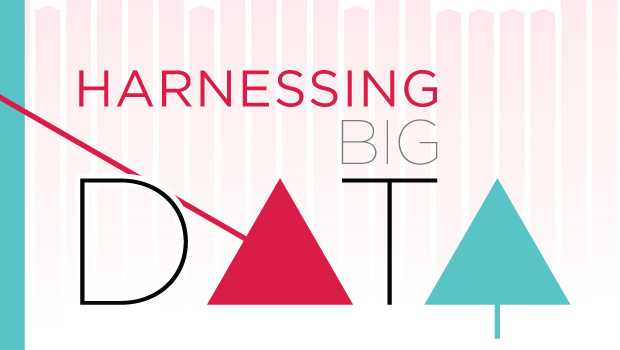 Big Data is revolutionizing marketing from the way brands connect with consumers to the need for a new breed of marketers skilled in analytics and customer data management.
One major issue that marketers struggle with is the sheer volume of data collected through online behaviour, social media interactions, and e-commerce as well as through in-store POS transactions.
For instance, Cheston Chiu, director of Loyalty Analytics at Aimia, says that Walmart does over one million in-store transactions per hour. When you add to that proprietary and third-party research, that's an unbelievable amount of rich data.
Today data is measured in terabytes (trillions) and petabytes (quadrillions) but he says that it has been predicted by IDC that 35 zettabytes of data will be created annually by 2020.
"E-commerce has played a huge role in the recent data explosion," says Chiu, adding that according to IDC, by 2020, there will be 5.2 million transactions per second worldwide. "These numbers are totally mind boggling. It's amazing that e-commerce adoption went from people being anxious to transact online to now, where virtually everyone shops online." Once they have huge amounts of data, marketers are faced with the big question – now what? "Information around the world is being captured, tracked, analyzed and digested to discover interactions and relationships," says Chiu. To be actionable it needs to be processed and analyzed. That's where data analytics and management firms come in.
Jan Kestle, president and founder of Environics Analytics, describes a common challenge for many marketers as one of internal transformation, geared to pooling customer data that already exists within organizations and using it to its full potential.
"When we talk about Big Data, we're not only talking about volume, velocity and variety. We're seeing marketers realize that the technology and the needs have come together, so companies are looking for one view of the customer and to have integration across the enterprise as a way of unleashing Big Data for multiple purposes."
"The interesting thing is that businesses are only using a fraction of the data that they have available. Even without collecting new unstructured social media data, the databases that any large company already have about their customers are very large and have untapped potential in how they can be used for data mining and analytics."
Kestle says there are lots of opportunities for marketers today to adopt new methods and analytical tools, and to understand what business decisions Big Data can be applied to – who their customers are, what their lifestyle and media preferences are, what they buy, and how consumers want brands to communicate with them.
Audience profiling
One of the chief advantages to be gained from Big Data is the discovery of the best targets for advertising and what messages will resonate with them most.
Bryan Melmed, director of Insights Services at Exponential, explains that the basic approach is to describe the audience that is most likely to be receptive to, an advertiser. "Who is reading your website, who is buying your product, who is talking about what you're doing?"
Melmed says that the Exponential database has been built with petabytes of information that is collected every day about what people online are reading, researching, concerned with and buying. All these online activities are categorized and placed in the database waiting to queried.
"We're looking for overall trends because we can't infer a reliable pattern without thousands of users," explains Melmed. "One of the secrets of digital marketing is to ignore age, income, and ethnicity. It's more important to understand what they're doing, what they're interested in and the types of lifestyles they're leading."
Product development
Big Data is a valuable tool for marketers to employ in the early stages of new product development.
"We often will be approached by companies launching a new product – or wanting to understand a target audience before they even develop the product," Melmed says.
Philip White, senior business analyst at Crossmark says, beyond providing insights to help in the creation or design of a product, Big Data can tell marketers who is going to buy the product and how to reach that audience.
"If you're looking to develop a new product, with Big Data you can look at similar products in the marketplace and who it appeals to the most. It enables marketers to change their messaging or change the product before it's even released, because who you think is going to buy the product might not actually be the consumer who will buy it," says White.
White cites a case of a product roll-out that was marketed towards an older demographic, but didn't do well. "The client started looking at who actually bought the product and found it was a younger consumer. So then it's not just 'who is going to buy my product?', it's 'what should the packaging look like?, what should the features be that we offer?, what is the messaging?' to reach that audience."
Big Data and customer loyalty
Big Data is increasingly being used to cement a bond. To combat the challenges of fragmented hard-to-focus audiences and endlessly increasing competition, Big Data helps companies clarify and optimize all aspects of their marketing.
"Customers are committed to brands that demonstrate commitment to them. We support this commitment by using data to make business personal. It might mean recognizing them with personalized status through a tiered loyalty program or by using customer data and insight to provide better service, merchandising, store design, and pricing.," says Cheston Chiu. "At Aimia, we specialize in loyalty programs and use data to personalize those programs to help deliver the best experience possible from a marketing perspective."
Chiu adds that since consumers are growing more savvy as loyalty programs grow more sophisticated, "if they feel they that an organization is taking their data and not doing anything with it, and that they're still being treated just like a million other customers, they're going to start gravitating to other brands that do treat them with a personalized or a one-to-one feeling. When it comes to sharing personal data, the importance of the notion of reciprocity between the business and its customer can't be stressed enough."
Experience and retention
That one-to-one experience is an important aspect of CRM, and the consumer insights discovered by connecting the dots on customer preferences can be key to gaining strategic advantages.
Geoff Linton, vice-president of Inbox Marketer, explains the role of marrying Big Data with digital messaging technology as "identifying gaps and opportunities and some of the low hanging fruit to see where the largest profit potential or strategic initiatives are within the company. By consolidating and bringing this data together we're able to give them visual reports at their fingertips, as well as insights and major trends."
Inbox helps brands engage their customers by using data to optimally guide marcom content to its fullest potential. "What we're helping clients do is build a giant segmentation model where they can query response and engagement factors by different segment criteria. The goal is to look at the nuances, how some of the segments are responding to messaging, and how we can improve the overall customer experience."
Big Data also gives customer service reps deeper information about the people they are talking to and enables them to provide more personalized service and offers.
"If you call a call centre because you have a problem with a new phone, the call centre is not able to see that previous interactions include four calls to the centre in the last four days," Linton explains. "They should be empowered to handle your call very differently. There should be a red light on the screen, 'handle this person with care'."
Retail heats up
Retailers are using Big Data for everything from product selection, store and shelf layout, to initiatives that nod to the showrooming trend with the creation of personalized offers and just-for-you savings.

Philip White of Crossmark explains that showrooming has forced retailers to step up their in-store game with more customized incentives. "Customers will come into a store and scan a barcode and know they can buy it for less online. If they leave the store, they weren't going to be a valuable customer anyway, but if they get the experience that they're looking for in-store, they'll get the sense that it's okay to spend a bit more because they're getting such great service."

This has led to a flurry of personalized programs and services in Canada. White says that if the store "has all the things they want, recognizes them and knows how to reach them with specialized deals, the customer will see it as a good value, a good use of their time and will keep coming to the store."

Jan Kestle of Environics Analytics explains that by segmenting customers, and linking demographics, lifestyles, values and media preferences with different types of consumers, retailers can be much more knowledgeable in their interactions with those groups.

"Those kinds of segments can be assigned to stores," says Kestle, "giving retailers a 360-degree view of their customers." Identifying people who live in a certain trade area can also be applied to merchandising, because it helps determine the mix of customers who are likely to patronize the store. As Kestle explains, "you can match your shelf planning not just to historical sales, but to the kind of products people want to find in-store. That application works with telcos and banks as well. It really is an engine to drive local marketing and make it much more targeted."

The bottom line, says Kestle, is that data shouldn't be collected just for the sake of having more and more data.

"The number one question has to be, 'what's the business problem I'm trying to solve?' Then, 'what assets do we have within and outside our organization to help us shed light on it?'"