What's hot at CES
Will robotic plants be the next big thing? Can 3D food printers take off? Check out the cool tech from this year's Consumer Electronics Show.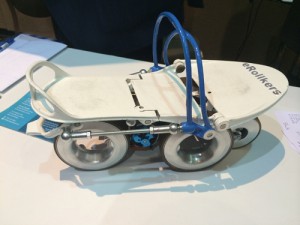 Rollkers: These electronic shoes give new meaning to speed walking
You know those walking conveyor belts in airports? The ones that save passengers the panic of running through an airport, only to arrive at a terminal ten seconds too late? Yes, we all wish city planners would put them on sidewalks by now. Alas, they don't seem to hear our pleas, but some inventors from Geneva have decided to take speed walking into their own hands. They've developed the first-ever electronic "under shoe" called Rollkers. Apparently, anyone wearing a set of these can travel up to seven seconds faster, and the company claims that, unlike typical roller skates, no training is necessary. Great idea, let's just hope bag snatchers don't catch on.
(Rollkers photo via Laura Rosenfeld at T-Lounge)
Melomind: A de-stressing headset for the most anxious of us all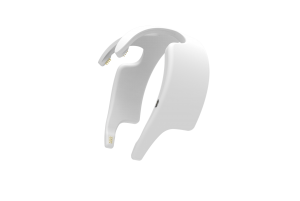 To relax, we sometimes flick through the stations on Songza, usually tuning into recommendations of mellow and ambient music for reading and meditation. It's a bit of a chore, trying to figure out what music our head is craving. But now, there's promise of a device that could potentially do that all for us. The Melomind, by MyBrain, is an EEG headset that tracks a person's brainwaves, and which then measures stress and plays music to calm a person down. It takes only 15 minutes to bring stress levels to a comfortable level, the company claims – that's double the time it takes to smoke a cigarette, but without the negative health impact and financial burden (costs about the same as smoking a box a day for two months). This is the second such device we've seen, the first being Canada's own Muse headgear.
3D food printer: We can already hear foodies begin to salivate
3D plastic printers are so 2014. Make way for the rise of 3D food printers. You heard right, XYZ Printing has launched a printer that turns ingredients into food… well, all it can make are cookies for now (not that we're complaining!). The company demoed the printer at CES, using cookie dough and chocolate to make delectable sweet things. You can make practically any cookie shape, without having to find a mould, or 3D print your own for an unusual shape (like a character from a TV show or perhaps a bent-over-backward intern, like this one).
Image via the Daily Dot
Rainbow and Parrot Pot: Connected toothbrushes and plants are all the rage
Connectivity is the name of the game at CES this year.
To start, there's a vendor offering a connected toothbrush that makes brushing fun. It's meant for kids, but we're pretty eager to stock our own kid-less bathroom with one of these cleaning gadgets. Rainbow, by global device and app maker Vigilant, gamifies the brushing experience by connecting to a smartphone and showing, in real-time, the mouth nooks and crannies a brusher is missing. You can earn points while learning how to brush your teeth properly (surely it's a smaller price to pay than future dentist fees after years of incorrect grooming).
The second connected device that stands out on the floor this year is the Parrot Pot, a robotic potted plant that feeds and looks after itself. It's a strange concept, yes, but it's totally something we want, nay, need. The pot plant holds two litres of water and two litres of soil. It works in conjunction with H2O, another device created by Parrot, a U.S. developer that's been making drones for quite a while now. Every 15 minutes, in order to release the correct amount of water to the living plant, the two devices measure the moisture in the soil, fertilizer levels, as well as temperature and light. Wonder if this will eventually make its way to humans (imagine wearing a fanny pack of nutrients that makes its way into our system as needed, almost like a portable, near-invisible IV).