PROMO! Awards shortlist revealed
Did you activate on all the right levels? Check out which brand activation programs made the cut this year.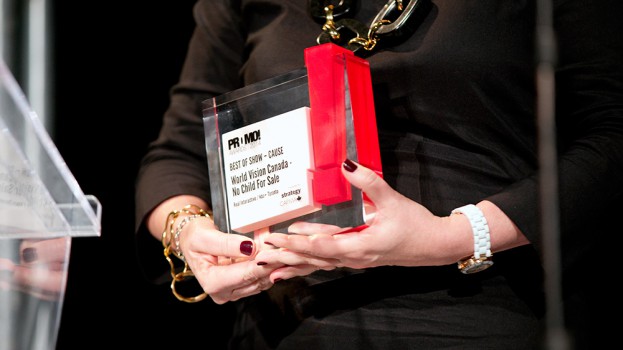 The results are in, and while the actual PROMO! Awards winners won't be revealed until Sept. 16, here are the finalists for the strategy-hosted awards gala in Toronto.
This year marks the 15th year in which the PROMO! Awards and CAPMA (Canadian Agencies Practicing Marketing Activation) have awarded brand activation programs for their "breakthrough creative, strategic brilliance and outstanding results," with the judges selecting a total of 29 campaigns, created for 22 brands by 21 different agencies.
Here are the 2015 shortlisted campaigns:
Brand:

Amnistie Internationale Canada francophone

Campaign:

"#MinuteOfHope"

Agency:

Cossette

Audi

"Tight Parking"

Zulu Alpha Kilo

Audi

"A3 Launch"

Zulu Alpha Kilo

Bell Media / TSN

"Kings and Queens of the Court"

Leo Burnett Toronto

Canadian Badlands

"Help Build the USS Enterprise"

Taxi Vancouver

Canadian Tire / Jumpstart

"The Big Play"

Touché / Cleansheet / North Strategic

Coca-Cola / Diet Coke

"Get a Taste: Style Bar"

Mosaic

Corby Spirit and Wine / The Glenlivet

"Squadron 70″

Hill+Knowlton Strategies

Ikea

"Quick & Easy Room Makeover"

Leo Burnett Toronto

Ikea

"House Rules"

Leo Burnett Toronto

Ikea

"Inspiration Boxes"

Leo Burnett Toronto

Interac

"Be In The Black"

Zulu Alpha Kilo

Kimberly-Clark / U by Kotex

"Carmilla"

Geometry Global

Kraft

"MiO POV"

Taxi 2

Kraft

"Food Hacks"

TracyLocke Canada

Kruger Products / Scotties

Facial Tissue

"Power of 10″

Fuse Marketing Group

Labatt Breweries of Canada / Corona Extra

"Summer Campaign"

Zulu Alpha Kilo

Mark's

"Ready for Winter"

Sid Lee

Mars / Misfits

"Dog GIF Party Maker"

Proximity Canada / BBDO Toronto

MasterCard Canada

"Priceless Surprises – Truckload of Priceless"

MacLaren McCann

Molson Coors / Coors Light

"#PimpMyProfile"

Leo Burnett Toronto

Perfetti Van Melle / Mentos

"The Amazing Journey Contest"

Cossette

Procter & Gamble / Always

"#LikeAGirl"

Leo Burnett Toronto, Chicago, London / Holler

TD Bank

"#MakeTodayMatter"

Leo Burnett Toronto / Diamond Integrated Marketing

TD Bank

"The New to Bank Tour"

Diamond Integrated Marketing

Tim Hortons

"#WarmWishes Holiday Cup"

Pigeon Brands

Tim Hortons

"Tim Boston"

JWT Montreal

Tim Hortons

"Tims Next Door"

Taxi 2

Unilever / Dove

"Camera Shy Program"

Bob Agence