Bentley's brand journey
The Canadian luggage retailer is undergoing a transformation on and offline.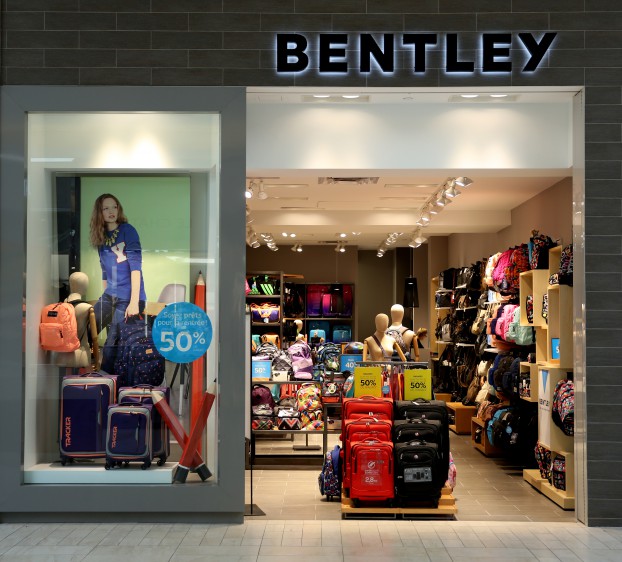 Canadian luggage and accessories retailer Bentley Group is undergoing a shift in its brand strategy and marketing to stay competitive against growing online retail.
Working with Quebec's Jump & Love, the retailer has rebranded with a new logo and tagline, "Bentley. On the move with you. Everyday."
The new branding is meant to reflect Bentley's role in a wide range of customers' personal journeys – from school kids needing backpacks to businesspeople's needs and retirees needing luggage for vacations, says Marie-Elyse Ahad, marketing director at Bentley Group.
This year, Bentley also redesigned 11 of its roughly 300 stores in Canada, with another 22 set to get a new look shortly (the redesigns for all stores are part of a five-year plan). Along with its internal teams, it worked with Montreal's Aedifica on its new store design. In February, Bentley also named Narrative PR as its public relations agency of record.
Bentley, founded in 1987 in Newfoundland, was bought by Montreal-based private equity firm Novacap two years ago. That was when the shift in brand strategy really began, Ahad says. "I think that was really one of the transforming moments for Bentley because it was treated more as a mom and pop shop before," she says.
Now, there's a greater brand strategy at play, focused on providing an overall customer experience (rather than merchandise only) and knowledgeable service from staff.
Despite research showing strong brand equity with the Bentley name in Canada, it still needed to address areas that were lacking, such as digital, Ahad says.
In May, Bentley launched a redesigned responsive website with e-commerce capabilities. The retailer is now focusing even more on its digital strategy, investing more in retargeting, display advertising, email campaigns and social media. "It wasn't a focus before and we understand that that's important now in terms of the customer experience," Ahad says.
Part of that includes reaching customers at the right time, such as amping up marketing and in-store displays during times like the lead-up to spring break, when travel is more of a priority and luggage is needed.
At store level, the brand is also putting more effort into training staff to provide knowledgeable guidance to customers, something it hopes will be a differentiator against department stores that carry similar merchandise, Ahad says.
Bentley is also going up against e-tailers and stores like Best Buy, which may not carry a wide assortment of backpacks and luggage in store, but do sell them online, Ahad notes.