Canada's Lucky Iron Fish takes Grand Clio
The project, credited as Canadian by the Clios, also took home the Healthcare Advertiser of the Year award.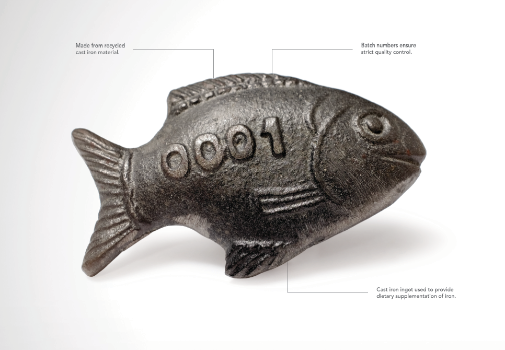 The posh Clio Awards show held last night in New York, hosted by actor Alec Baldwin with entertainment by the likes of X Ambassadors and Salt-N-Pepa, is the polar opposite of the world where "the Lucky Iron Fish Project" has had its most rewarding results. And it's for that reason that it took a 2015 Grand Clio in Healthcare Innovation.

"The Lucky Iron Fish Project" also took Healthcare Advertiser of the Year for its work to solve the widespread problem of iron deficiency in Cambodia. Using "One Lucky Iron Fish" while cooking can provide an entire family with up to 75% of their daily iron intake.

The project took the Product Design Grand Prix in Cannes this year, which sparked controversy over who had authority to claim the success for the Canadian idea and program (when it was declared a winner in Cannes the Lion was awarded to their agency Geometry Global in Dubai), but here in New York, Clio organizers are proudly calling it Canada's Lucky Iron Fish.

The idea first came from PhD student at the University of Guelph, Christopher Charles, as a side project, and was later turned into a company, with another Guelph PhD student, Gavin Armstrong being brought on as president and CEO.

Updated Oct. 5, 2015: Lg2′s overall performance at the Clios this year has earned it the Agency of the Year recognition for Canada. For the agency's work, as well as all the Gold, Silver and Bronze wins from Canada, see here.

The other 2015 Grand Clios went to:

Digital, as well as PR: M&C Saatchi, Sydney; Clever Buoy (Optus)

Branded Entertainment: Funny or Die, USA; Between Two Ferns with Zach Galifianakis: President Barack Obama

Out of Home: TBWA/Media Arts Lab, USA; World Gallery (Apple)

Engagement/Experiential, as well as Innovative: Grabarz & Partner, Hamburg and GGH Lowe, Hamburg; Nazis against Nazis – Germany's Most Involuntary Charity Walk (EXIT-Deutschland)

Direct: DAVID, Miami; Proud Whopper (Burger King)

Integrated Campaign: Y&R Team Red, Istanbul; Between Us (Vodaphone)

Print: Ogilvy & Mather London; It Happens Here (28 Too Many)

Social Media: CP+B, USA, Emoji Ordering (Domino's)

Audio: F/Nazca Saatchi & Saatchi, Brazil; SoundLab Container (Leica Gallery São Paulo)

Music, Partnerships/Collaboration: Spotify, Stockholm and Uber, San Francisco; Your Ride. Your Music.

Use of Music: R/GA, London & Los Angeles; Beats By Dr. Dre: The Game Before

The Lifetime Achievement Award went to DDB Chairman Emeritus Keith Reinhard.