Out of Home: Astral deepens its consumer connection
The mediaco is rapidly expanding its physical footprint and tech capabilities across Canada, providing marketers with unique reach opportunities.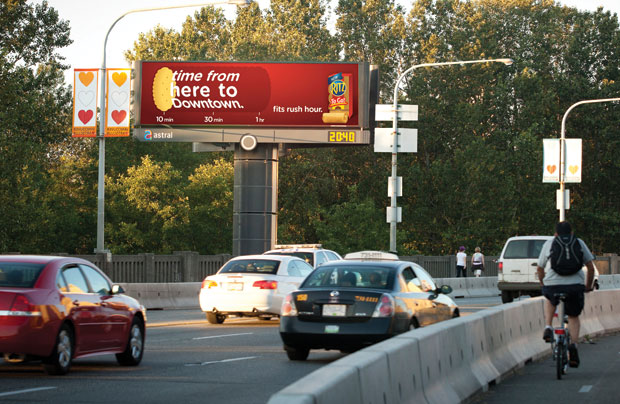 Astral Out of Home, a division of Bell Media, is in mega expansion mode.
In the past 20 months, the advertising network has acquired two companies and won a number of new contracts, expanding its reach across the country.
Back in December 2014, Astral Out of Home acquired the assets of Toronto's Strategic Outdoor, giving it access to a range of out of home large-scale murals, deepening its footprint in Canada's biggest city. Earlier that year, it picked up Macdonald Outdoor, gaining a large format digital network in Edmonton; and has since expanded that network and entered into the Calgary market.
That's on top of the three new airport contracts it's won in recent months, including Halifax, Ottawa and Vancouver, adding to its existing airport contracts in Montreal and Quebec City. This is not to mention the newest installation of digital transit shelters in Toronto, featuring the first 4K digital screens in Canada and the recently awarded RTC Quebec City contract for Transit Shelters and Buses.
"We can give clients an extensive network of touchpoints through which to reach consumers," says Jordana Fatsis, VP sales, Astral Out of Home. "And with our research teams and GIS mapping, we're able to truly concentrate a brand's advertising efforts in a way that best meets its needs and reach its target group."
What's more, with Bell Media Mix, Astral Out of Home is an ideal partner for brands, as clients can easily integrate Bell Media's TV, digital media and radio properties. "It's a one-stop shop," she says.
The OOH network has also upgraded its internal software tools in recent months, she says, introducing a new way to buy ad space (on a total impression basis, rather than at specific locations only), allowing brands to maximize their budgets and reach.
Another recent development is the ability to synchronize RSS and conditional data for street level digital and large format digital campaigns from one completely centralized master control centre. "This means we're able to execute dynamic digital campaigns and are able to control every market across the country at a single point, rather than try to manage each market individually," says Fatsis.
She points to a recent campaign with Mondelez's Ritz Crackers in Toronto as a prime example of one of these dynamic campaigns. "Ritz Fitz" tapped into both traffic and transit data. For those travelling on a busy Toronto highway, their estimated commute time was displayed in crackers, while those waiting for transit, a countdown (in crackers, naturally) showed how much longer people had to wait for the next bus or streetcar.
To achieve that kind of stand-out originality and engagement, Fatsis advises bringing in Astral Out of Home early on in the discussions. "We're in a unique position where we can assist clients with their strategy to create customized campaigns," she says.
She points to a recent campaign with Quebec retailer Reno-Depot and Sid Lee, which used a camera and an app to determine the exact colour of the sky and match it to the available SICO paint colour available in stores. The campaign went on to win a Gold Pencil at the 2015 One Show.
To spark this type of creativity that takes unique advantage of the medium, Astral Out of Home is continuing to deepen its relationship with agencies. Beyond its proprietary measurement tool offered exclusively to agencies (which measures the probability of creative elements seen within the first three to five seconds), Astral Out of Home has hosted its home-grown annual Carte Blanche competition for the past six years. This year, the organization put to market 2014′s winning campaign for Marks (also by Sid Lee). The campaign featured discounts based on the drop in temperature, she says, a great campaign for the long, cold months of Canada. The push saw a 21% increase in year-over-year sales in the markets the ad ran.
Going forward, Fatsis says Astral Out of Home will continue to invest heavily into digital out of home, including digital offerings in the newly awarded airports and at street level
"We've been testing touch interactive applications at street level and at airports that are still in the development stage," she says. "Preliminary research proves that people on the street are willing to engage in new technology, especially the 25 to 54 demo."
"Mobile and digital interaction is going to continue to grow," she adds. "Customers want more dynamic experiences from their brands, and out of home is a great medium to create these interactive experiences."
UPDATE: Since publication, Astral has expanded their digital portfolio with 11 more large format boards across Toronto, Montreal and Calgary, and announced a deal with RCC in the GTA to represent that company's static faces. Astral also launched TSA Interactive, and Jordana Fatsis shared their interactive screen strategy with Media In Canada.
Contact
JORDANA FATSIS
Vice President, Out-of-Home Sales – Astral Media
jfatsis@outofhome.astral.com
T: 416-440-6697
Supplement Links