Taxi Vancouver announces new hires, promotions
Creative director Jay Gundzik is among the new faces at the shop, after a year of several new client wins.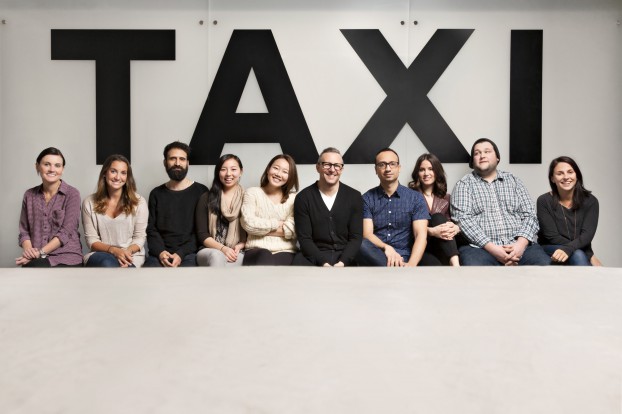 Pictured, left to right: Julie Marsh, Shira Saltzberg, Nima Samadi, Michelle Lim, Seeun Kim, Jay Gundzik, Tony Hird, Sofia Pona, Adam Trask and Lizzie Dabous.
Taxi has announced several new hires and promotions in its Vancouver office following new client wins in 2015.
Last year, the shop picked up work for craft beer company Philips Brewing, YVR (Vancouver International Airport) and SaskTel, among others.
Among the hires announced is Jay Gundzik, who joins Taxi as creative director. A former professional snowboarder, Gundzik has worked at several agencies in the U.S. including Modus Operandi, 72 & Sunny, Secret Weapon and Crispin Porter on brands such as Belvedere Vodka, Dominos, Kettle One Vodka, Tourism Australia, The Getty and GAP.
"Jay's background and quality of work is unprecedented. Having worked both agency and client side, at tech shops and traditional shops, Jay brings a dynamic energy to our office which will help elevate the work and thinking," Mike Leslie, Taxi Vancouver's general manager, said in a press release.
Also in the creative department, senior art director Tony Hird and senior designer Sofia Pona have both been promoted to ACD roles.
New creative hires in 2015 include art director Adam Trask, writer Nima Samadi, senior art director Seeun Kim and designer Michelle Lim.
Outside of creative, other hires include planner Lizzie Dabous and account directors Julie Marsh and Lindsay Bryson. Digital producer Shira Saltzberg has also joined the shop.