Sandy Branch: a Starcom MediaVest bellwether
The office manager's colleagues reflect on her ability to run a smooth ship.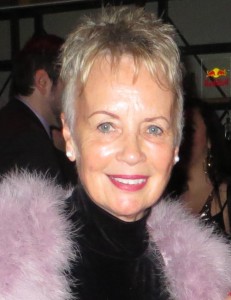 Sandy Branch is the first person people meet when they arrive as new employees at Starcom MediaVest Group (SMG).
"She sets the tone and expectation for the culture here, and she's done that since she started," says Steve Meraska, SVP innovation, insight and disruption at SMG, who has worked with Branch since he began his career in advertising 28 years ago. "She's a bellwether for how we operate, and how we behave."
But, after 40 years setting the office trends, Branch is set to retire Jan. 29.
"When you think about Starcom MediaVest, you enviably think about Sandy Branch," adds Alexandra Panousis, CEO of SMG. "She's the perfect mix of class and professionalism – a balance of old-school efficiency, but always at the height of fashion."
Branch, who moved to Canada from London, England in 1971, started her career with Leo Burnett, before the agency was spun out to SMG. She began as the executive assistant to media director Charlie Gamble and was the right-hand to every media director and CEO since, before assuming the role of office manager.
Few people know that it was Sandy who first inspired our SMG acronym," says Laura Desmond, Global SMG CEO. "The 'S' well that's obvious: Sandy, it starts with you. We all know for 40 years you have kept SMG Canada running. 'M' is for magnificent — from the perfectly coiffed silver mane with pink tips to the wardrobe that is the envy of the office.  And 'G' is for the "General." You kept the troops in line whether it be timecards or dress code – no BBB [boobs, belly, butt] on your watch! Thank you for your years with the agency — you will always be part of our SMG family."
Branch lovingly calls many of the employees her "kids," and Anne Myers, SMG COO says one of her favourite memories of Branch is the cheerleading and guidance she provides to many of the team at SMG. "Sandy has built an amazing fan base here, and getting to work alongside our people of all generations is one of the things Sandy has enjoyed most about her years with us." She has a unique, kindly style in reminding everyone about office protocol and a great ability to keep staff on their toes.
"She always worked closely with the CEOs and was involved with the agency's day-to-day affairs," says Chris Morandin, SVP group director, who has worked with Branch for 30 years. "Being an industry veteran, she knows everything about process, procedure, but more importantly, she's wonderful in orienting people who have just joined the agency."
Her personable nature helped her amass a number of close friends at the shop over the years, he says, and some of his fondest memories of her include nights out on the town for corporate functions. "Leo Burnett used to host a formal black tie affair," he says. "And I have a photo in my office of Sandy [and a number of other employees] all decked out in black ties. She always looked fabulous, even in a tuxedo with tails."
Branch was also actively involved in many of the company's charities over the years, including the annual fall drive to raise funds for the United Way, Literature for Life as well as NABS. "Just last week, she helped raise money for one of our media planners whose dog got very ill and had received a vet bill in the thousands," says Panousis.
Kindness and a generous nature were repeated many times across multiple interviews; Meraska says his first impression of Branch was her "big-hearted, lovely personality", while Morandin called out her ability to make new staff feel welcomed and comfortable with her charm and big smile.
"Working in media can be tough, and at times makes us all a bit cynical," says Panousis. "Sandy's gift [is] she reminds us that kindness is the most important contributor to any culture."