Juniper Park\TBWA hires 14
Four months after its merger and new AOR wins, the shop announces several hires and promotions.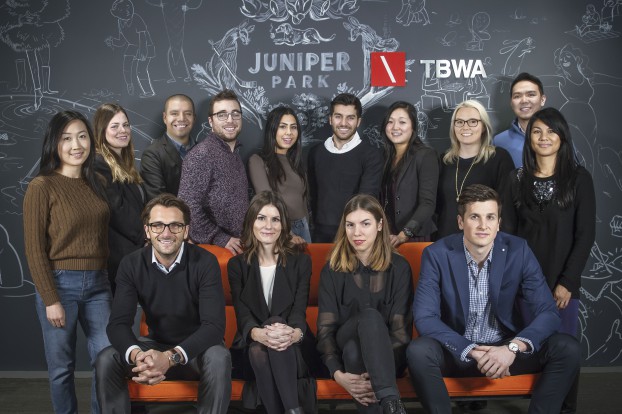 Top (left to right): Angela Vuong, Stephanie Regimbal, Jose Garcia, Michael Kates, Dina Qahwaji, Peter Buffone, Kristen Lee, Alexandra Stadnik, Carlo Tan and Ruth Ann Cachero. Bottom (left to right): Julien Bissuel, Jessica Cupola, Julia Robins and Adrian Goodgoll.

Juniper Park\TBWA has added 14 new hires and promoted nine staffers across all disciplines.

The hires come just months after Juniper Park and TBWA\Toronto merged. In that time, the shop has also picked up three new AOR assignments, which it says are still confidential.

On the creative side, the shop has added former PosterOne designer Jose Garcia, and two creative teams: Ruth Ann Cachero, art director and Alexandra Stadnik, copywriter (both from Clever Samurai); and Angela Vong, art director and Julia Robins, copywriter.

On the account side, the agency has brought on Julien Bissuel, previously at Nestlé Canada, as senior account director; former Zulu Alpha Kilo staffer Adrian Goodgoll as account director; and Jessica Cupola as senior account executive (previously at Luminato). Four new account executives have also joined. Stephanie Regimbal and Dina Qahwaji come from JWT, Peter Buffone from Fuse Marketing and Carlo Tan from KBS. Kristen Lee has also joined as account coordinator.

Michael Kates, previously a strategic planning intern at Juniper Park\TBWA, has now joined as a data strategist within the shop's Disruption Live practice.

Apart from those new hires, the agency has also announced several promotions. Christina Gliha was promoted to group creative director; Louis Duarte is now creative director, design; and Neil Walker-Wells is now creative director at Disruption Live. Lisa Harvey was promoted to account supervisor while Milly Benko, Alexandra Carcasole and Tracy Pokroy were promoted to senior account executives. Laura Slipp is now account executive and Shannon Kennedy is now digital producer.