West Edmonton Mall's navigation plan
How North America's largest mall is attempting to be less overwhelming with interactive kiosks.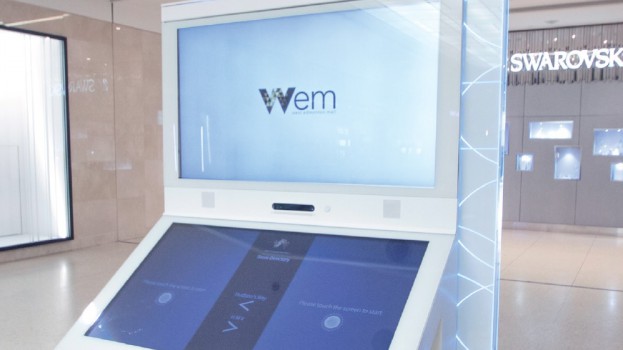 Even for a shopping addict, 5.3 million square feet is a lot to get through.

To improve its customer experience, the West Edmonton Mall – the largest in North America – created a new navigation system for shoppers to peruse the massive shopping centre with more efficiency and for retailers to deliver special offers.

After running a prototype in 2014, the mall has now installed 12 proprietary, interactive kiosks that use Dell workstations and Microsoft Kinect sensors to detect users (installation wrapped up in late 2015). Shoppers can navigate the mall using two 65-inch 4K screens at each kiosk – one with touchscreen capabilities and two keyboards, and another with a large, easy-to-read display for one or two users at a time. West Edmonton Mall's in-house IT team created the customized system.

Digital maps and navigation tools are updated in real-time. Shoppers can also connect and add directions to their smartphones using NFC technology. "It really helps ground you to where you are," says Anna Alfonso, vice president, marketing at the West Edmonton Mall.

Navigating the massive mall can understandably be a challenge for its estimated 30.8 million yearly visitors. The shopping centre includes roughly 800 stores, 100 dining venues and other attractions, such as a waterpark, amusement park and two miniature golf courses.

By improving navigation, the mall is aiming to improve its overall customer experience, Alfonso says. Making the shopping experience more efficient can also allow for shoppers to dwell longer and discover new brands (since they won't be spending so much time figuring out where to go).

For its part, keeping printed directories up-to-date has been expensive for the West Edmonton Mall, and so these new screens allow for information to be delivered in a more cost-effective way. In the short-term, printed maps and other mall information will be available, but the kiosks are set to become the primary navigation tool for the shopping centre, which spans the equivalent of roughly 48 city blocks.

It's also allowing the mall to gain insights into times of day when people are shopping, what consumers are searching for, including brands that currently aren't part of the shopping centre, Alfonso says. That kind of information can then be passed to the leasing team.

The kiosks are also now a revenue generator for the mall, which is selling space for retailers to advertise promotions based on categories where they want to be seen (such as women's fashion or shoes).