Penguin opens up an 'Instagrammable' shop
The book publisher uses its familiar logo and book spines in a new, small-space design.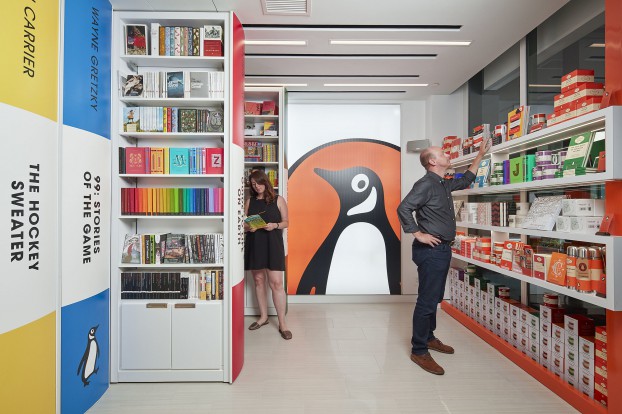 Penguin Random House Canada has opened up a bricks-and-mortar location in Toronto, aimed at improving engagement with its brand and using the shop as a learning space for product development.
The new Penguin Shop is located in the same building as the publisher's offices, near Union Station and close to the city's major tourist hubs. Along with the obvious (selling books), it also sells Penguin merchandise, including tote bags, mugs and notebooks.
The  hope was to have the 158-square-foot space – what's traditionally a kiosk size – be an "Instagrammable" space, says Marjorie Mackenzie, vice-president of retail at Figure3, which designed the shop.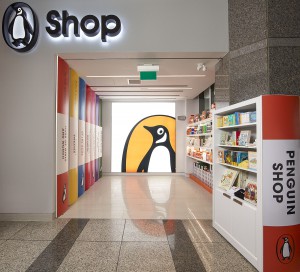 The small space will be constantly evolving to help draw in Torontonians who might work nearby and pass the shop regularly, Mackenzie says. The large graphic book spines in the store (currently displaying the brand's Classics tri-band spines) are changeable, allowing Penguin to swap them out depending on the season or for events like book launches. The shelving is also moveable, allowing for different merchandising.
The "Instagrammable" design is already working, with much of the shop's traffic driven by Penguin fans sharing photos on social media, says Meghan MacDonald, director of digital product development and consumer insights at Penguin Random House Canada.
While publisher book shops aren't new, with Penguin itself running pop-ups in the U.S. and UK, the permanent location is a first for Canada, says Robert Wheaton, COO at Penguin Random House Canada.
Like other book publishers, Penguin engages with customers online through owned channels like newsletters and social media, but it was looking for a way to gain new customer insights and settled on the idea of face-to-face interactions in a physical location.
The store is also meant to serve as a sort of product lab, where Penguin can test out ideas with customers, he says.