Hudson's Bay goes hipster for the holidays
The retailer targets quirky millennials with its "#ElfMyLife" product and marketing strategy.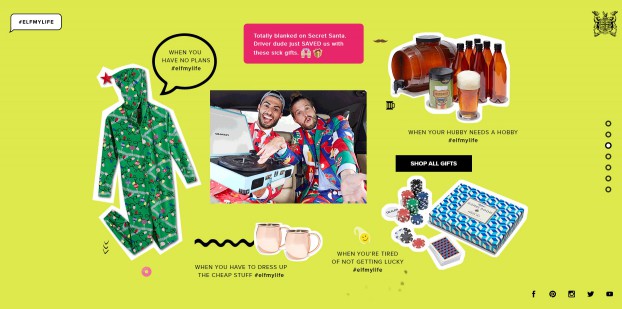 Hudson's Bay has long been a go-to for holiday gifts like sweaters and jewelry but the retail giant is targeting a younger demographic this year by upping its quirkiness factor.
A new product assortment initiative aims to reach millennials who may not typically shop at Hudson's Bay for holiday gifts or other offbeat items like ugly Christmas sweaters. The brand came up with three areas in which to up its game, including "for techies" (such as Fitbits and hoverboards), "for hipster" (things like craft beer kits and three-piece suits covered in Santas) and "for holiday fun" (ugly sweaters and the like).
To stand out, Hudson's Bay created a marketing campaign within its traditional holiday strategy, settling on the name "#ElfMyLife."
"As we thought about supporting it from a marketing standpoint, we really recognized that if we just dropped them into our typical Christmas marketing, the potential was that they might just disappear," says Patrick Dickinson, SVP, marketing and brand strategy at HBC. Instead, the brand went with an entirely different creative approach, using neon colours and an overall look that's distinctively different from its other holiday marketing, which has categories like "gifts for her" or "gourmet treats," but with a design and product assortment more in line with what's traditionally found in department stores.
The idea was to "disrupt" its own holiday marketing, Dickinson says. In all of its 90 stores, for example, the "#ElfMyLife" collection will live in specific strike zones, merchandised with the same stand-out colours and design ethos to distinguish itself from the retailer's other products and gifting ideas (the displays will be scaled, depending on the size of each store location).
Holiday selfie game not on point? #ELFMYLIFE https://t.co/plunIvzXFw pic.twitter.com/KjAsE3GtuH — Hudson's Bay (@hudsonsbay) November 4, 2016
The marketing campaign around the collection is mostly digital, including display ads, online videos for each of the three categories within "#ElfMyLife" and social media support, all driving to a specific microsite, which, like the in-store displays, is distinct in its look and feel from the rest of its gift section.
In its 60-page print catalogue debuting Friday, several spreads in the "#ElfMyLife" design also disrupt the more traditional merchandise Hudson's Bay pushes over the holidays (think designer handbags leading into Toronto neighbourhood toques).
Hudson's Bay handled all creative, production and media in-house.
Forgot to pickup gifts before the big holiday party? #ELFMYLIFE! https://t.co/plunIvzXFw pic.twitter.com/mJ0EDuQyvF

— Hudson's Bay (@hudsonsbay) November 4, 2016