Microsoft bets on Montreal AI
The tech giant acquires deep learning startup Maluuba and further invests in the city's growing AI community.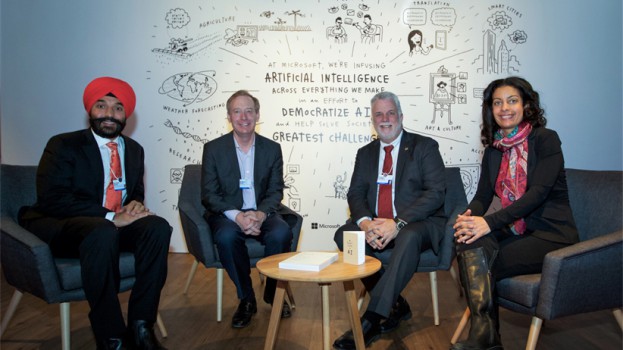 Pictured, left to right: Canada's Minister of Innovation, Science and Economic Development Navdeep Bains, Microsoft president Brad Smith, Quebec Premier Philippe Couillard and Quebec's Minister of Economy, Science and Innovation Dominique Anglade.
Microsoft has made moves over the past week to build its artificial intelligence capabilities and also help Montreal further establish itself as an increasingly influential hub in the space.
Microsoft first announced that it would be acquiring Canadian deep learning startup Maluuba last Friday. Financial terms of the deal were not disclosed, but Maluuba will operate as part of Microsoft's quickly-expanding Artificial Intelligence and Research Group.
The acquisition looks to give Microsoft a leg up in AI and deep learning development over other large tech companies, which have been racing to improve their capabilities in the space through partnerships and acquisitions, such as Salesforces' acquisition of MetaMind and PredictionIO last year and Apple's acquisition of Turi in August.
While other AI-focused research – both at start-ups and at major tech companies – has been developed through image and video recognition, Maluuba is primarily focused on getting machines to understand language, believing that to be at the core of getting an AI to understand human communication and learn from it. Before shifting its focus to deep learning, Maluuba began as an attempt to create a voice assistant that could operate on Android and compete with Apple's Siri. That software was eventually used in phones and other consumer products from LG.
At an event in Davos, Switzerland on this Wednesday, Microsoft announced that it planned to double the size of Maluuba over the next two years. At the same event, the company also committed to further supporting the development of AI in Montreal with grants of $6 million to the Université de Montréal and $1 million to McGill University. The money, which will be paid out over a five-year term, will be put specifically towards AI, deep learning and machine learning research and facilities.
One of the key acquisitions Microsoft has gained is not just Maluuba's products and research, but its talent, including some of the first faces to enter the burgeoning Montreal AI community. That includes Sam Pasupalak and Kaheer Suleman, who co-founded Maluuba in 2011. Microsoft will also be able to tap into the expertise of deep learning pioneer Yoshua Bengio, currently the head of the Université de Montréal's Montreal Institute for Learning Algorithms, who has served as an advisor to Maluuba in the past. Bengio will continue to advise Maluuba and consult for the broader Artificial Intelligence and Research Group.
Montreal in particular has been an hotbed for AI and deep learning. While that has come in the form of involvement of big tech players – Microsoft became the first investor for Element AI, a deep-learning incubator co-founded by Bengio, in December – some of those companies have also made investments to support local talent, companies and research without fully bringing them into their respective corporate folds.
In November, Google made its own investment into the Montreal Institute for Learning Algorithms, offering $4.5 million over three years to support its work, while at the same time launching its own AI research group within its Montreal office.
"Microsoft has chosen to focus on Quebec talent, on the know-how of our researchers, as well as on our expertise and innovative technologies," Quebec Premier Philippe Couillard said in Davos. "In a constantly evolving global economic context, artificial intelligence is a sector at the cutting edge of technology that helps propel societies towards the digital economy. It's a sign of recognition and confidence towards Quebec's strengths."
Photo courtesy Patrick Lachance