CASSIES Grand Prix: Proving the power of hugs
The diaper brand capitalized on its name to become the champion hugger.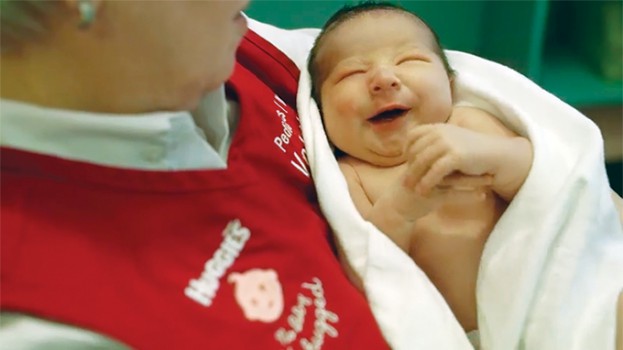 This article appears in the March/April 2017 issue of strategy.
Grand Prix winner
Gold: Packaged Goods  +  Silver: Building Brand Equity
Situation Analysis | Pampers had a 60% market share for newborn baby diapers – almost twice that of Huggies – due to its long history of product demos and decades of hospital endorsement. Because the relationship with a diaper brand lasts years, the lifetime value can be as high as $2,600 per child. The goal was to increase Huggies' newborn diaper dollar volume by 10% over a 12-month period (with the annual category growth at 1%).
Insight & Strategy | Evidence shows that taking newborns baby out of their mothers' arms and into the care of nurses and incubators has drawbacks. Being held is necessary for development: skin-to-skin contact with a newborn via hugging helps regulate body temperature, stabilize vital signs, build immune systems, and promote weight gain. Positioning Huggies as the hugging champion could build emotional equity while giving the brand some medical authority.
Execution | Launched nationally in May 2015, "No Baby Unhugged" was supported by a $5 million budget across platforms. The campaign positioned Huggies as an extension of a mother's hug by creating surrogate hugging programs in consultation with the Canadian Association of Pediatric Hospitals (CAPHC). The brand screened volunteers and had them come into hospitals' Neonatal Intensive Care Units (NICU) to administer hours of hugs to newborns whose moms couldn't always be there.
The campaign invited mothers to join the "No Baby Unhugged" initiative, beginning with the "Power of Hugs" online video launched on Mother's Day 2015. Three documentary-style videos showcased the hugging programs. Online advertising via newborn-centric digital partnerships drove viewers to the "No Baby Unhugged" website, which housed an online film called "Here's what hugs can do."
All the videos were released on social, and via additional media partnerships with HGTV, W Network, Global 7 and CTVGo. The site also invited women to upload photos of them hugging their babies or of their pregnant bellies in support of "No Baby Unhugged" for a $5 donation to the hospital hugging program. New moms were rewarded for their support with a free pack of Huggies diapers and automatically registered to a long-term rewards program.
Results | The campaign led to a 19.2% increase in dollar sales of Huggies newborn diapers in the first year of the campaign, compared to a flat performance in the preceding 12 months. There was a net sales ROI of $2.76 for every dollar invested, driven by a TV net sales ROI of $4.67 per dollar spent. In addition, the number of mothers signing up to the Huggies database more than tripled.
Cause & Effect | Newborn diaper sales increases doubled other diaper sizes. Pricing was flat for both Huggies and Pampers from 2014 through 2015, while Huggies newborn diapers actually lost 3.6% distribution points.
Credits:
Client | Kimberly Clark (Huggies)
Director of marketing, baby and child care | Brian Clayton
Brand team leader | Paul Scott
IMP director | Mitch Faigan
Director, marketing and sales strategy | Michael Hurt
Social and digital marketing manager | Ali Ruffo
Shopper marketing lead | Alicia Cameron
Associate marketing manager | Lauren Wong
Agency | Ogilvy & Mather
CCO | Ian MacKellar
ACDs | Chris Dacyshyn, Julie Markle
Managing director | Laurie Young
Group account director, senior VP | Aviva Groll
Account executive | Kennedy Crawford
Digital strategic planner | Robyn Hutman
Planning director | Michelle Lee
Digital project manager | Charmion Brathwaite
eCRM director | Leslie Warren
Digital strategic planner | Asha Davis
Account supervisor | Amy Brash
Planning director | Doug Potwin
Producer | Anne Marie Martignago
Media agency | Mindshare