NFB re-releases award-winning doc in VR
The NFB and Jam3's Bear71 gets a second chance to make its message heard.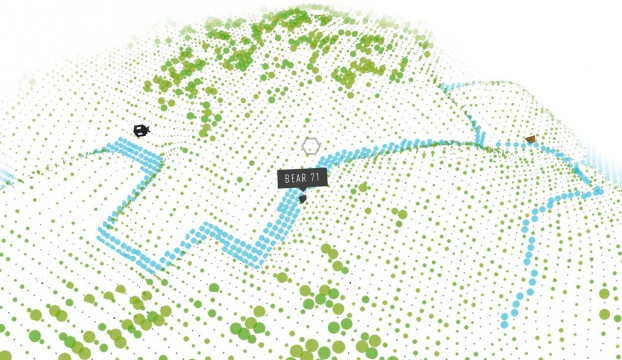 The National Film Board has re-released one of its most acclaimed interactive projects in virtual reality, hoping to give new life to its already innovative message.
Bear71 was first released in 2012, created by Jeremy Mendes and Leanne Allison in partnership with the NFB and Jam3. The interactive documentary followed a female grizzly bear who had been tagged and tracked through Banff National Park for her whole life. Users could follow the bear or other animals through a digital version of the park, using content from tracking cameras throughout the park, or turn on their own webcam to interact with other users in the experience.
The idea was to examine the intersection of humans with nature, showcasing wildlife and seeing how things like highways, golf courses and train tracks have left their mark in the park, all while a voiceover from Bear 71′s perspective told her life story.
The documentary received numerous accolades, including Webby Awards, Digi Awards and a Gold Lion at Cannes.
"When we helped conceive the project with the NFB, the goal was always to create something that was a 360-degree experience," says Pablo Vio, ECD at Jam3. "But at the time, the capabilities of what we wanted to do was not at the state it was today. What we have available to us now seemed like a very natural way to experience it."
The new version of Bear71  again puts users in a virtual interpretation of Banff National Park. But by using VR tools such as Google Daydream or Google Cardboard-enabled phones, or by simply exploring with their browser, they are fully immersed in the abstract version of the park, which has been expanded to give users more room to explore and more content to find while the audio story unfolds.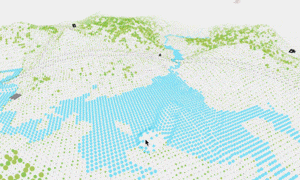 "The emphasis for the NFB was representing a balance that reminded people that it is a reflection of nature, but it isn't natural," says Tomasz Dysinski, senior developer at Jam3. The VR environment is "shaped like a natural place, but it's totally abstract and based off of tech. Being up close and personal with all these representations in 3D constantly reminds you of that while you're exploring."

Vio says the fact that the visuals in Bear71 are abstract made the adaption to VR easier than it might have been for a film project with more life-like visuals. The VR version of Bear71 was also developed in WebVR, a framework that allows virtual reality experiences to take place within a browser, as opposed to a standalone app. That allows for a navigateable 360-degree experience on most modern browsers and a wide range of devices.

"Using this tech allows us to export the same experience to many different platforms, and opening it up like that added to the appeal of redoing it," Vio says.

Jam3 and the NFB worked with Google, IDFA DocLab and Sound and Vision on the re-release.