DDB takes Best in Show at Anvil Awards
The agency's anti-smoking card game won the top prize, but C&B took the most awards at the show.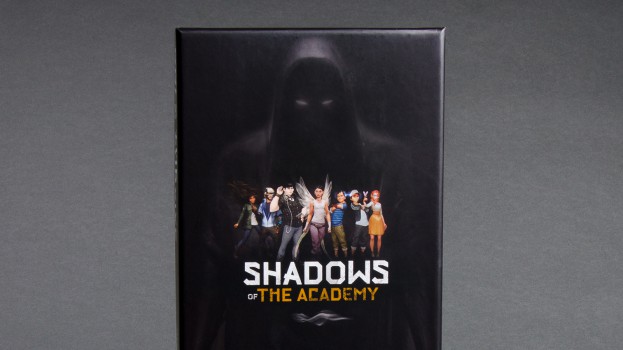 DDB Canada has been recognized for producing one of the best campaigns to come out of the Prairies, taking home Best in Show at the Ad Rodeo's Anvil Awards on Friday.
Previously only open to agencies in Calgary, this year the Ad Rodeo opened entries to any agency based in Manitoba, Saskatchewan and Alberta.
The "Shadows of the Academy" campaign, created for Alberta Health Services by DDB Canada's Edmonton office, was a campaign aimed at preventing students in the province from smoking. To do so without lecturing them, the agency created a fantasy-inspired, card-based role playing game. While elements of the game were clear allegories for the dangers of smoking, it was also meant to give kids the tools to address the root causes picking up the habit in the first place, such as peer pressure. The game has now been adopted as part of the school curriculum in Alberta.
While DDB took Best in Show, it was Calgary's C&B Advertising that took home the most Anvils overall. The bulk of its awards came for its work with the Calgary Co-op – often a favourite at past Anvil Awards – but was also recognized for work with the Calgary Stampede and Banff & Lake Louise Tourism.
Other big winners were Redline Interactive for work with and Calgary Drop-In & Rehab Centre and its "Fairness Works" campaign with the Canadian Labour Congress. Calder Bateman, meanwhile, won the "Anvil for Good" for the Institute for Sexual Minority Studies and Services' "Pride Tape," also picking up Anvils for its work with HIV Edmonton and the City of Edmonton.
The full list of winners can be found below.
C&B Advertising: 8 Anvils, 2 Merit
Anvil
Banff & Lake Louise Tourism, "Alive": Craft, Design
Calgary Co-op, "Gingerbread Soap Opera": Broadcast (2)
Calgary Co-op, "Holidays Made Easy": Craft
Calgary Co-op, "60th Anniversary": Craft
Calgary Stampede, "It's a Stampede Thing": Outdoor, Print
Merit
Calgary Co-op, "Holidays Made Easy": Outdoor (2)
DDB Canada: 7 Anvils, 2 Merit
Anvil
Alberta Health Services, "Shadows of the Academy": Best in Show, Outdoor, Craft (2), Digital, Integrated
Edmonton International Airport, "BUCKET L15T": Design
Merit
Alberta Transportation – Office of Traffic Safety, "The Blunt Truth": Outdoor
Edmonton International Airport, "BUCKET L15T": Craft
Redline Interactive: 5 Anvils, 3 Merit
Anvil
Calgary Drop-In & Rehab Centre, "Help Save Centre 4800″ (with Karo): Digital
Canadian Labour Congress, "A Better Plan for All: The Watch": Broadcast
Canadian Labour Congress, "Fairness Works: Refugee Crisis": Digital (2)
Canadian Labour Congress, "Fairness Works: Migrant Workers Rights": Digital
Merit
Calgary Drop-In & Rehab Centre, "Help Save Centre 4800″ (with Karo): Digital
Canadian Labour Congress, "Fairness Works: Missing and Murdered Indigenous Women": Outdoor
Canadian Labour Congress, "Fairness Works: Refugee Crisis": Outdoor
Calder Bateman: 3 Anvils, 2 Merit
Anvil
HIV Edmonton, "HIV Tonight": Integrated
Institute for Sexual Minority Studies and Services, "Pride Tape": Anvil For Good
Merit
City of Edmonton, "River for Life": Broadcast
City of Edmonton, "YEG City Budget": Digital
HIV Edmonton, "HIV Tonight": Craft
DDG: 2 Anvils, 1 Merit
Anvil
Honens, "Honens Festival 2016″: Craft
Rocky Mountain Productions, "Guns of Purgatory": Craft
Merit
Honens, "Honens Festival 2016″: Craft
Evans Hunt: 2 Anvils, 1 Merit
Anvil
Calgary Downtown Association, "The Big Taste": Print
HIV Community Link, "Wear It With Pride": Print
Merit
Self-promo, "Agency Sweethearts": Craft
Sticks & Stones: 2 Anvils
Anvil
ATB Financial, "No Bull Mortgages": Digital
City of Edmonton, "Holiday Special Andrew Ference: Christmas Eve": Craft
McCann Canada: 1 Anvil, 4 Merits
Anvil
Ad Rodeo Association, "Anvil Awards Show Design": Craft
Merit
Ad Rodeo Association, "Anvil Awards Show Design": Print
Bayer, "Barley Deck": Craft, Print
Government of Alberta, "Alberta Boards Logo": Craft
Trigger Communications: 1 Anvil, 3 Merits
Anvil
Animal Rescue Foundation, "Cuddle For a Cause": Print
Merit
Alberta Health Services, "STI Awareness": Outdoor
Brokerlink, "Mythical Creatures": Broadcast
Brokerlink, "Sasquatch": Broadcast
ZGM: 1 Anvil, 2 Merits
Anvil
Jayman, "Standard Features": Broadcast
Merit
ELEV8, "Lacrosse": Craft
Western Canada Lotteries, "Cosmic Boredom": Broadcast
Daughter: 1 Anvil, 1 Merit
Anvil
Youth Singers of Calgary, "Sheet Music Invite Poster": Print
Merit
Phil & Sebastian Coffee Roasters, "The Epic Story of Phil & Sebastian": Craft
Six Degrees Music & Sound: 1 Anvil, 1 Merit
Anvil
Redline Interactive / Fairness Works, "Support for Refugees 360º Video": Craft
Merit
123 West / Vancouver Art Gallery, "Vancouver Art Gallery Mash Up Exhibit Radio": Craft
Dissolve: 1 Anvil
Anvil
Self-promo, "This Is a Generic Presidential Campaign Ad": Craft
The Marketing Den: 1 Anvil
Anvil
Kinsmen Club of Saskatoon, "Kinsmen Dinner Plate": Print
MGM Communications: 1 Anvil
Anvil
SaskEnergy, "Can You Dig It?": Outdoor
MKRR: 1 Anvil
Anvil
CJSW, "We Make Radio": Design
Pollock Parke: 1 Anvil
Anvil
The National Music Centre, "King Eddy Poster Series": Print
Sajak & Farki: 1 Anvil
Anvil
ZX Ventures, "BRW BOX Holiday Craft Beer Calendar": Design
Swank Media: 1 Anvil
Anvil
H/W School of Ballet, "H/W School of Ballet Website": Digital
Vovia: 1 Anvil
Anvil
Calgary Drop-In & Rehab Centre, "Save Centre 4800″: Best Integrated Media Plan
Go Giraffe Go Writing & Design: 2 Merits
Merit
Saskatchewan Council for International Cooperation, "Drop in the Bucket": Broadcast, Craft
Flipp Advertising: 2 Merits
Merit
Calgary Jazz Orchestra, "2017 Season": Print
Red Stripe Beer, "We Are Jamaica": Digital
Starburst Creative: 2 Merit
Merit
Advertising Club of Edmonton, "ACE Awards Winners Book": Design
All Weather Windows Renovations, "Today's Top Hits": Broadcast
ATB Financial: 1 Merit
Merit
In-house, "Long Story Short": Design
Fokkens Rowe: 1 Merit
Merit
Valbella Gourmet Foods, "Swiss Gourmet Foods": Print
Fulcrum: 1 Merit
Merit
Calgary Cinematheque, "Spaghetti Western": Print
Roth and Ramberg Photography: 1 Merit
Merit
Self-promo, "Big Land. Big Picture.": Craft
Think Shift: 1 Merit
Merit
CropLife International, "Table for Twenty": Digital
Woodruff Sweitzer: 1 Merit
Merit

Beaumont Blues & Roots Festival, "BBRF Radio Series": Broadcast