Winners from the 2017 National Advertising Challenge
A look at the ideas that earned 11 creatives a trip to Cannes.
Every year, the National Advertising Challenge enlists its sponsors to come up with briefs across different categories that creative teams have free range to tackle in whatever way they believe is best. The teams had 20 days between the briefs going live on March 31 and their deadline on April 19 to develop their idea and pitches.
As always, the Gold winners received free trips to Cannes Lions Festival of Creativity in June. Winners in the student contest won a three-month paid internship at a Canadian ad agency.
The full list of winners, a short description of the briefs and look at the Gold-winning work can be found below.
Campaign
Sponsored by: McDonald's
Brief: Help position McDonald's as a leader in Canadian beef
Gold: Peter Gomes and Dave Pigeon, DentsuBos
Idea: Create "cow power" by partnering with farm suppliers to turn manure from the cows into a clean bio-fuel, using it to provide electricity for ads and, potentially, other parts of McDonald's businesses, like restaurants or delivery trucks.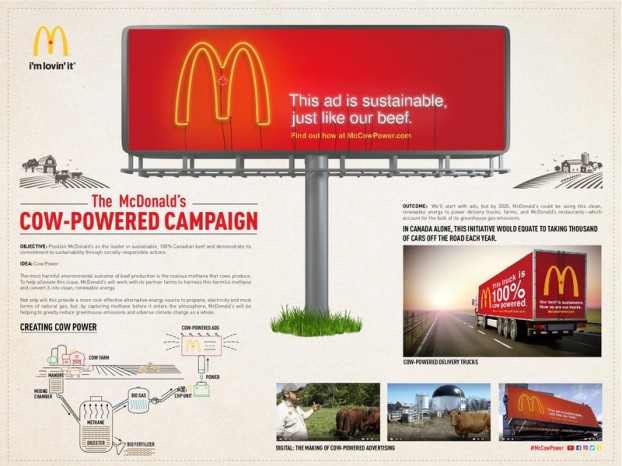 Silver: Steven Tiao and Kevin Hoessler, Leo Burnett
Bronze: Tom Mednick and Yan Snajdr, KBS Toronto
Direct
Sponsor: Canada Post
Brief: Direct gets an upgrade through Canada Post's Smartmail Marketing campaign

Gold: Mike Postma and Stephen Flynn, Wonderinc
Idea: Create "real life notifications" in the form of cards that can be affixed to a business' mailbox. Each card features a customized link that drives to their own website with a Canada Post overlay as a way to prove how direct mail can help drive online traffic.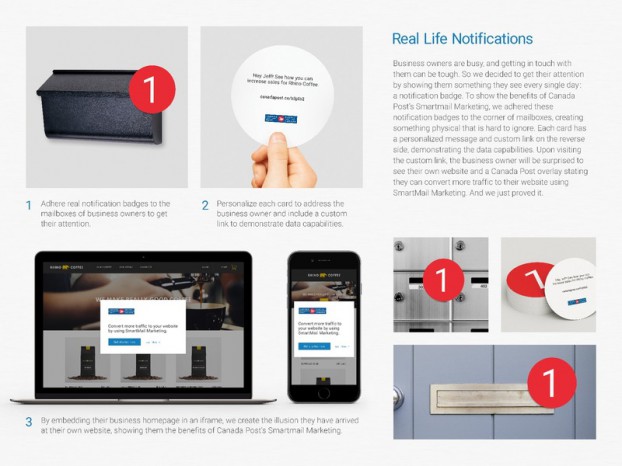 Silver: Kareem Halfawi and Gillian Newing, Geometry Global
Not-for-profit
Sponsor: Children's Wish Foundation
Brief: Help Children's Wish Foundation of Canada illustrate the power of a wish
Gold: Sam Cote and Ryan Dzur, Taxi
Idea: Reaching out directly to users who post frivolous wishes on Twitter, serving them a link to a donation page that they can use to help make an actual wish come true for a child.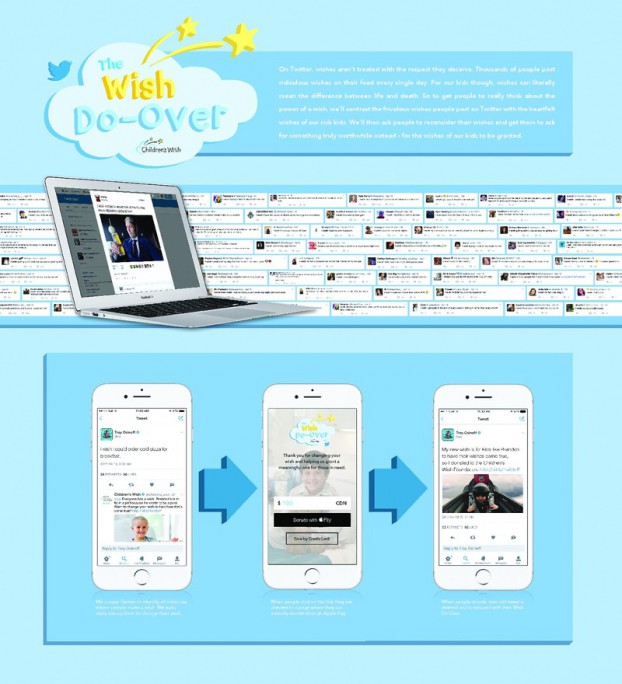 Silver: Steven Tiao and Kevin Hoessller, Leo Burnett
Bronze: Yvette Rietner and Jake Bogoch, The&Partnership
Wild Card
Sponsor: Nestle Smarties
Brief: Smarties wants the world to know they're made with non-artificial colours that are as vibrant as ever
Gold: Dave Fontaine and Aaron Niven, Taxi
Idea: A clear Smarties box that shows off the colours of the candy.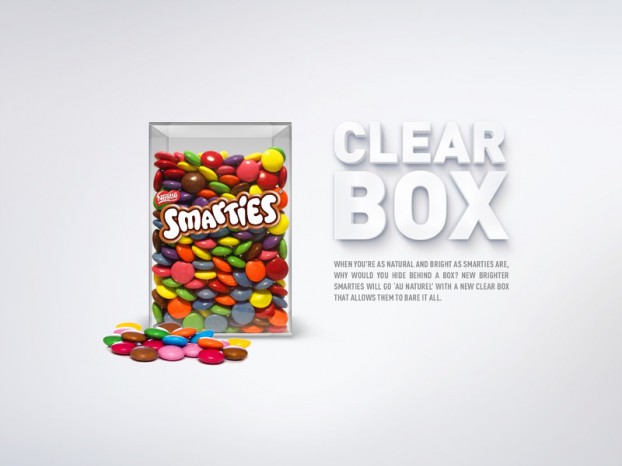 Silver: Chris Brown and Jake Van Buskirk, Bensimon Bryne
Bronze: Oskars Trinitis and Cory Hansen, Saatchi and Saatchi
Experiential
Sponsor: The Home Depot
Brief: The Home Depot wants to help DIY'ers on their quest for more knowledge
Gold: Vinay Parmar and Kevin Sato, DentsuBos
Idea: Billboards that drive to the registration website for Home Depot DIY workshops will be created by actual customers as part of the workshops.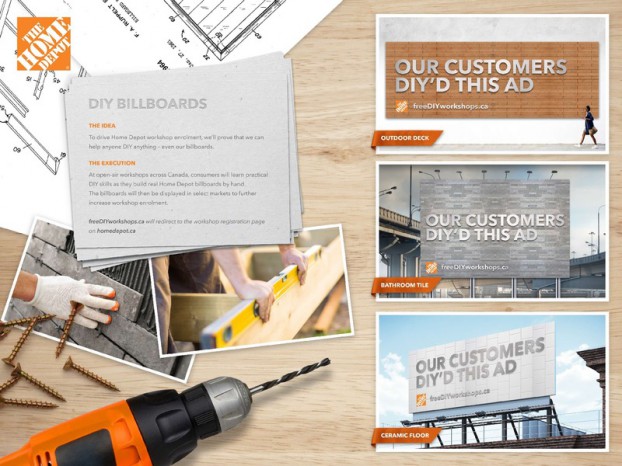 Silver, Bronze: Elizabeth Dundas and Allen Kwong, freelance
Big Ideas
Sponsor: Hershey's Kisses
Brief: Hershey's Kisses wants to make any celebration better
Gold: Caitlin Baynton, 6 Degrees Integrated Communications
Idea: Parts of humourous phrases that are customized for different occasions are printed on a Kiss' white ribbon to create a game. Guests at a party or event can play by eating a kiss and combining their ribbon with other players' to create full phrases that can also be shared on social.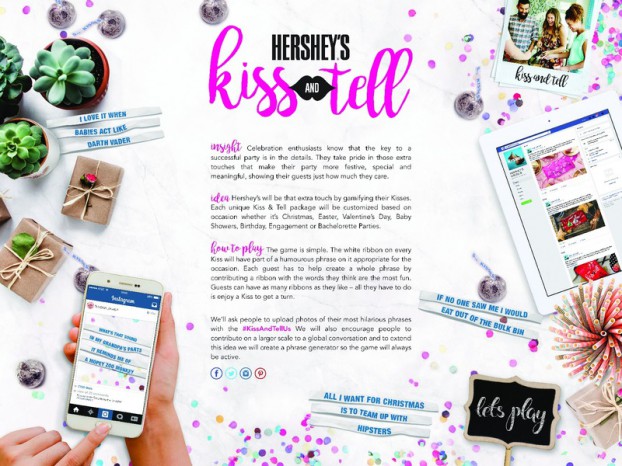 Silver: Oskars Trinitis and Cory Hansen, Saatchi and Saatchi
Bronze: Frank Butty and Faye Ji, DDB Canada
Student
Sponsor: The Toronto Zoo
Brief: Toronto Zoo celebrates Canada's birthday with unique Canadian species.
Gold: Ailsa Walter and Chenice Piercy, Mohawk College
Idea: "Canadian animals" tends to bring to mind things like loons, beavers and polar bears. But to show off some of the more diverse species visitors can find at the Toronto Zoo, the animals that appear on Canada's coins would be replaced with things like lions, elephants and penguins through a partnership with the Canadian Mint. What's more, people who manage to find one of the special coins could use it to cover the full admission to the zoo.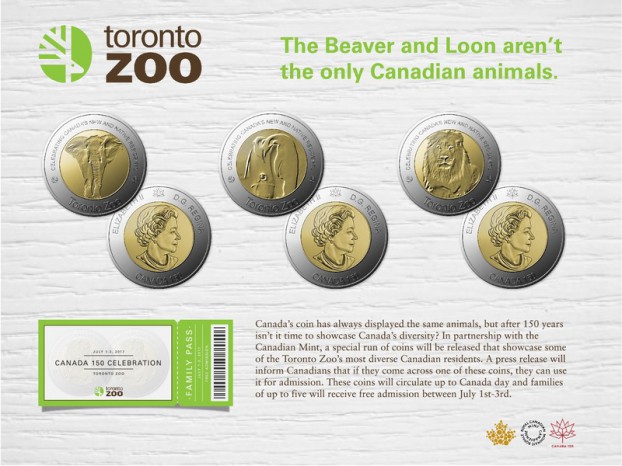 Silver: Patrick Godin, Seneca College, and Michael Romaniuk, McMaster University
Bronze: Ailsa Walter and Chenice Piercy, Mohawk Colleg