Monster brings a new, fuzzier face to Canada
The career site has launched its first major marketing push in five years in a big and hairy way.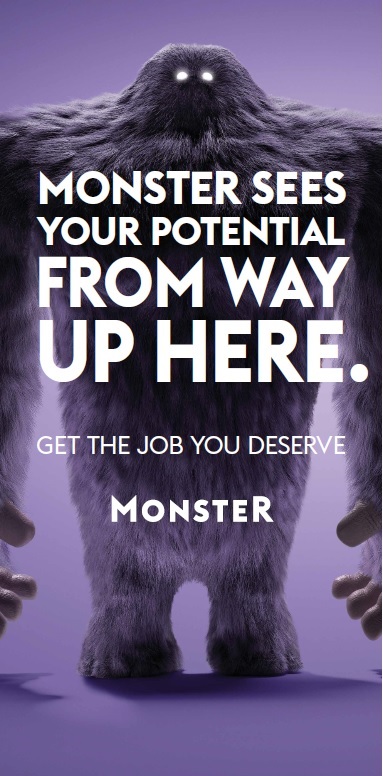 Career website Monster.ca has launched its first major consumer marketing push in Canada since 2012, hoping millennials won't be able to ignore the big and hairy creature dominating major cities.

The new purple monster – Monster's new face globally – has made its Canadian debut with the first phase of the campaign largely including out-of-home and transit advertising in Toronto, Vancouver and Montreal (where ads are bilingual), social media and digital. A new TV spot and online video is also set to launch later this year.

The purple monster, which replaces the brand's former "trumpasaurus" character (yes, that's the real name), first debuted in Europe and has migrated to North America, with the specific ads and copy nuanced for this market.

"Our brand has been pretty stale for some time," says Sheryl Boswell, director of marketing for Monster.ca. Globally and within Canada, the brand has embarked on research and testing aimed at reinforcing its brand among consumers 35-plus but introducing itself to millennials – especially those with zero to two jobs on their resumés – who aren't aware of its offering, she says.

Whereas before, Monster would drive to its site as a destination, it's now using social media and digital to be relevant in a more consistent way with millennials, who haven't necessarily relied on traditional job boards for their career hunts.

In Canada, Monster is working with KBS on creative, OMD on media and Environics Communications on PR.