Farm Boy 'bullish' with expansion plans
The retailer is set to open its first Toronto store, aiming to be a more affordable fresh food offering.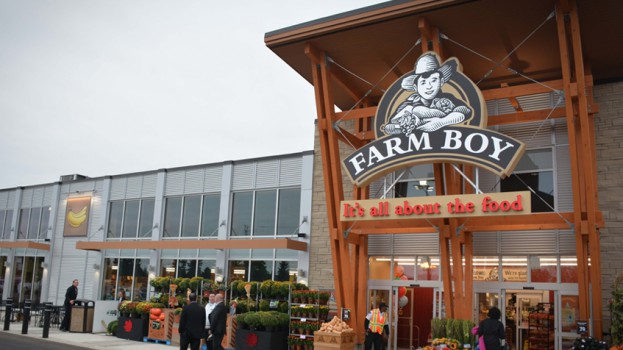 Pictured: Farm Boy's location in Pickering, Ont., east of Toronto.

Ottawa-based Farm Boy is opening up its first store in Toronto as it embarks on an expansion plan.

The retailer currently has two locations in the Greater Toronto Area, in Pickering and Whitby, both east of the city. Now, it plans to open up its doors this fall in Etobicoke, in the city's west end.

The fresh food-focused chain is offering a hybrid between an "affordable Whole Foods" and that of Trader Joe's in the U.S., says Farm Boy's co-CEO Jeff York. The majority of its inventory is focused on fresh produce, with complementary private label grocery items and a fast-casual prepared offering. York describes its customer base as "educated" shoppers who care about what goes into their food and bodies, spanning demographics from millennials to baby boomers.

The location in Etobicoke at the Shoppes of Alderwood made sense given that there isn't really a quality fresh food offering at an affordable price point in the immediate neighbourhood, York says.

Admittedly, though, "we should have been there five years ago," he says of the Toronto market. Properties didn't serve its need, in terms of both size and price, until more recently, he adds.

Now, Farm Boy is taking advantage of other bricks-and-mortar retailers shutting down and moving online (or shutting down because of competition). Its Pickering location, for example, is part of a former Target and the Etobicoke location was another grocery chain.

York describes the company as "bullish" with its plan to open 10 to 15 new locations in the next three years (it currently has 23 in Ontario).

In terms of click-and-collect or delivery options to help Farm Boy stack up against Toronto-area competitors, York says that is in the works but the retailer won't launch something just for the sake of it before being ready.

In terms of marketing, Farm Boy has a weekly flyer and does do radio and digital advertising, with York noting that it also relies on word-of-mouth and social sharing by loyal customers.