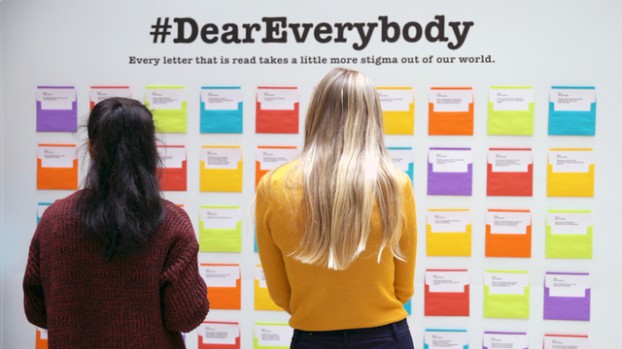 Pictured: Holland Bloorview's "Dear Everybody" installation at the CF Toronto Eaton Centre.
If you approach a child with a disability at the park, are you more likely to speak to them directly or to their caregiver?
For many of us, it's the latter. That insight around children and youth with disabilities being largely ignored has been turned into the latest marketing platform for Toronto's Holland Bloorview Kids Rehabilitation Hospital.
"Dear Everybody," led pro bono by KBS, puts the faces and voices of kids in the Holland Bloorview community front and centre to break the stigma around disability. The campaign centres on the concept of an open letter to the public from those kids, tackling myths and misconceptions about living with disability and challenging the inappropriate and awkward ways we sometimes deal with the issue.
The letter includes a long list of truths about the topic, like "Being afraid to say the wrong thing to someone is no reason to ignore them" and "Got a question for someone with a disability? Ask them. Not the person with them."
The KBS team immersed itself in Holland Bloorview, conducting interviews with kids with diverse backgrounds, many of whom appear in the creative.
"There's not a word in it that comes from clever copywriters," says Sandra Hawken, president and CEO of the Holland Bloorview Foundation. "They're all the words of our kids." And that was critical, given that the aim of the campaign is to have youth with disability be more meaningfully included, she says.
Holland Bloorview launched a campaign last year with then-agency Havas that also centred on breaking stigma, reframing the concept of "when life gives you lemons."
"When we did the campaign last year, it was our first step into doing any kind of anti-stigma or brand building efforts as an organization," Hawken says. Now, Holland Bloorview is making breaking stigma surrounding disability a core part of a five-year strategy.
The "Dear Everybody" campaign is receiving "well over $1 million" in donated advertising – including TV, radio, print, digital out-of-home, online – making it the organization's largest campaign to date, Hawken says.
To support its launch, Holland Bloorview has also received donated space in the CF Toronto Eaton Centre, where it's created a pop-up installation where passersby can get the snippets of information included in the "Dear Everybody" campaign.