Shoppers shifts tactics to target aging Canadians
Insights around how Canadians view getting older has prompted a new pilot program and a new brand.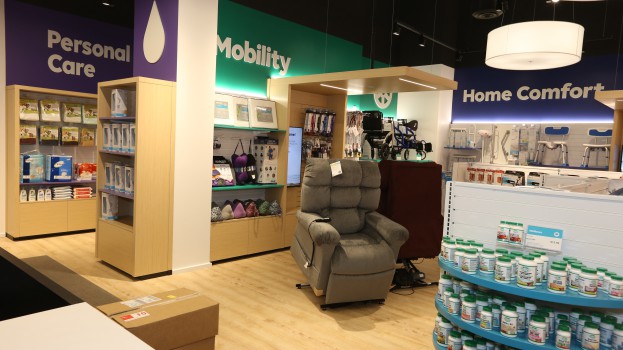 Canada's population is growing older. But aging isn't what it used to be, prompting Shoppers Drug Mart to shift its strategy to reach consumers in their golden years.

The retailer has just opened up Wellwise, a new store concept in Toronto and e-commerce brand targeted at both aging consumers and their caregivers.

Shoppers already has a robust business under its Shoppers Home Health Care banner, which has 49 corporate-owned stores and is focused on helping Canadians age comfortably, says Theresa Firestone, SVP of the healthcare business at Shoppers.

However, last year, it underwent a strategic review – including research with 5,000 Home Health Care shoppers – uncovering new insights about the way the population is viewing aging. Chief among those was that Canadians don't want to feel old and are looking to take control of how they age, Firestone says. And with that, they're also looking for a new shopping experience.

That led to the creation the Wellwise pilot concept, Shoppers' attempt at changing the dialogue around aging and focusing on wellness, as opposed to illness. The bricks-and-mortar store has a markedly different look and offers up an experience that's a departure from Home Health Care locations, says Scott Wilkes, VP at Shoppers Home Health Care.

Specifically, it's much brighter and aims to be experiential, with product out for shoppers to touch, feel and try out, he says. The product assortment itself is focused on six key categories: wellness, mobility, active living, tools and gadgets, personal care and home comfort.

Along with having an on-site dietitian, personal fitters for compression products and other supports and braces, the physical location will host active living-focused events like neighbourhood walks. "The focus is really on activity as opposed to things that you can't do," Firestone says.

To complement the store, the brand has also created an e-commerce component to take Wellwise national (excluding Quebec). Among its key value propositions are the ability to collect Optimum loyalty points and a subscription service – particularly important for Canadians in comparatively remote areas during winter, for example. An important differentiator is also plain packaging, so shoppers can have their products delivered more discreetly, Firestone adds.

Shoppers is mum on immediate plans for more Wellwise locations (and whether the concept will replace existing Home Health Care stores). For the time being, it will be piloting the concept and measuring success based on sales metrics and customer feedback, Firestone says.