Street and the City
Quebecor's OOH division believes the real opportunity for beacons is to talk to audiences and understand their actions.
At the Out-of-Home division of Quebecor Media Group, the belief is that just putting beacons into the market doesn't mean a thing if they're simply pushing coupons to mobile phones – the real opportunity is to talk to audiences and to understand their actions.
That's why Quebecor OOH sees interactivity and beacon technology as tools for providing value via info about the city and events – as well as for enhancing advertising messages. The company's work over the past two years with TéoTaxi, a Montreal fleet of electric digitally-connected cars, illustrates this philosophy, and the future of its business.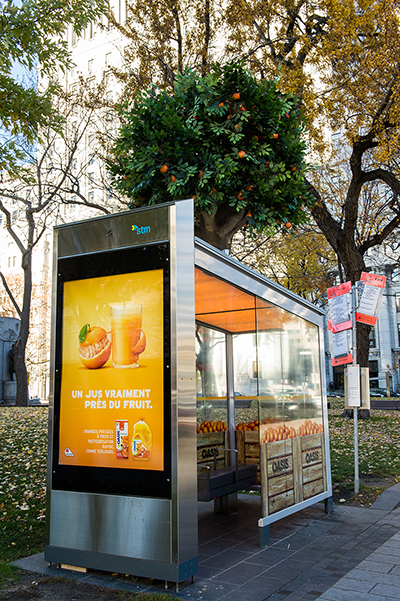 For Montreal's 375th anniversary this summer, Quebecor mounted an integrated mixed-media campaign that included TV, newspaper and TéoTaxi with taxi top advertising and interactive tablets for passengers featuring frequently updated schedules of anniversary events. In the context of the celebration, Quebecor Media Group also partnered with photographer Monic Richard on an urban exhibition. The street-side gallery featured portraits of 14 inspiring Montrealers, curated across 200 digital and standard transit shelters across the city.
Claude Foisy, vice-president of Montreal-based Quebecor OOH, sees executions like this as an example of how "Out-of-home will continue to evolve, to create new opportunities to become even a bigger part of daily life."
The evolution also means innovation and creativity are thriving as both standard and digital transit shelters become a canvas for more experiential ideas. Past campaign executions have included an orange tree for Oasis juice and sensors that spritz scents designed to tempt the taste buds to promote cooking show La Relève. There's been a concerted push to help brands fully realize OOH's new potential as a platform says Foisy. "We have been touring around to agencies to talk about digital and the intelligence we're building to help them develop innovative and effective campaigns."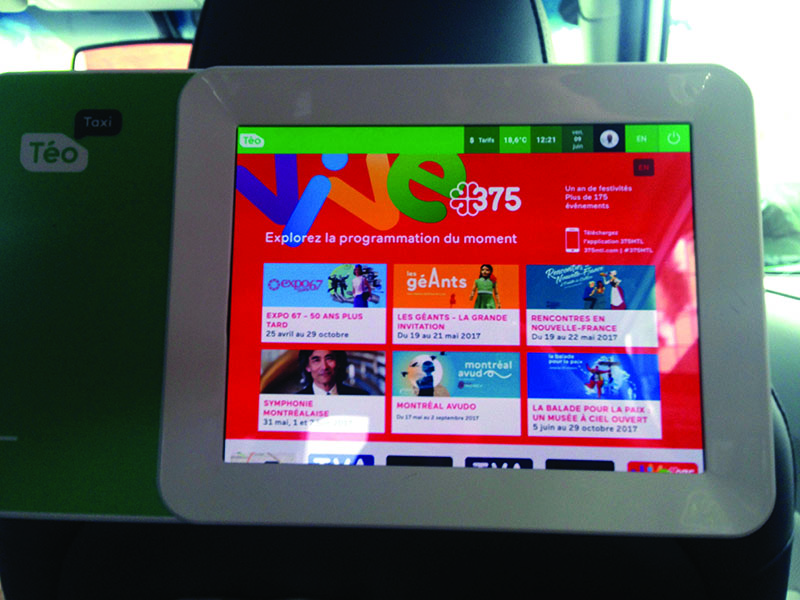 The interactive tablets inside TéoTaxis featured ongoing event updates as part of Quebecor's campaign for Montreal's 375 th anniversary.

Quebecor OOH's roster includes transit shelter advertising in the Montreal, Laval and Lévis markets and bus advertising across Lévis and the surrounding area, including parts of Québec City. The network spans 82 digital transit shelters, with expansion plans through 2018.

Foisy describes the platform as the last unfettered, unblockable touchpoint to reach consumers on the path to purchase: "It's part of their daily life." And that access comes with increasing ability to pinpoint targets. Quebecor's digital transit shelters comprise three networks, created using a mix of audience targeting and location-based intelligence to help brands talk to specific audiences. The DownTown Network is in the heart of the business, entertainment and cultural areas. The HipTown Network targets the 18 to 34 demo, students and public transit users in trendy locations. The GoTown Network gives advertisers visibility with motorists on major traffic arteries and a presence at peak times.

The bigger picture includes adding beacon technology next year, and to do so in a way that will be welcomed by consumers, along with continued smart city infrastructure development projects.

"Because Quebecor has expertise in management, installation and optimization of street furniture, we have become a pivotal point in the development of Montreal as a smart city," says Foisy. The company has been working with the Société de transport de Montréal and expects to launch real-time bus schedules for the digital shelter network early next year. For Téo electric taxis, upcoming enhancements include interactive roof- top signage.

"We see our role as an important one for keeping the public informed," says Foisy. "Real-time info such as weather forecasts, LCN news as well as contextualized advertising campaigns has made our street furniture a place where people can expect an enhanced experience."

By providing an ecosystem that balances consumer experience value with relevant, entertaining brand messaging, a goal is to avoid audience tune-out – a bane of other media platforms. "We talk a lot about developing the smart city," says Foisy, adding, "the smarter the brands are, the better and smarter we have to be to accompany them."