Can AI do brand advertising?
A panel at New York Ad Week discussed why AI needs "emotional intelligence" and its applications beyond lower-funnel conversion.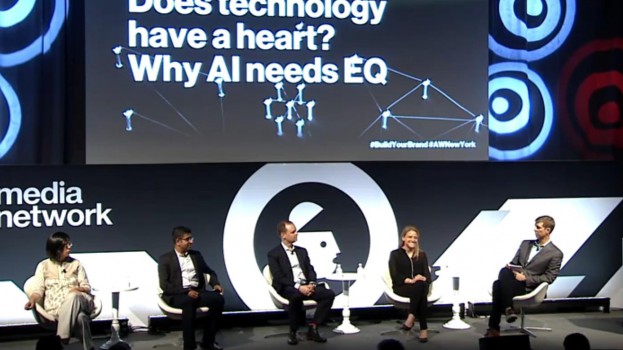 Even outside of the full day set aside by New York Advertising Week for artificial intelligence and cognitive computing panels, the impact of AI was a frequent topic of discussion at this year's event. The most common questions concerned the role traditional ideas of creativity and brand building will play in an industry being told that new platforms can do it all and do it automatically.
"In the end, all new tech is subject to the laws of marketing physics," said Yin Rani, VP of integrated marketing at the Campbell's Soup Company. "In the end, no matter what the tech is, audience understanding, insight, behaviour and giving utility to the consumer is what is most important.
Rani was part of a panel of senior brand and agency executives discussing the role "emotional intelligence" plays when using new technology – AI specifically. He discouraged the view that AI's surge into the creative industries as either/or conversation about humans versus technology. "For me it's a 'yes, and' conversation."
The panel agreed success could be found only in the balance of human and machine. People would still be needed to fill in the sometimes incomplete data that powers AI, translate the data into powerful ideas and make those ideas resonate with consumers.
But looking closely at this balance will be the key to utilizing AI effectively.
"The irony is that, ultimately, every decision the consumer makes is based on emotion," said Regina Sommese, senior media director at the in-house team at Discovery Communications. "Data and tech and AI is going to get us that one-to-one marketing, but that emotion is what wins the day and gets the consumer to do what we want them to do."
One of the major critiques of AI thus far has been that it's been highly focused on speed and automation and not on translating data into real insights.
"We're so obsessed with data and efficiency and eliminating waste, no one took advantage of dynamic addressable creative and making meaningful connections to consumers," said Joshua Lowcock, chief digital officer at Universal McCann. "We're slowly pivoting back, but there's also a big pull back from ad agencies who are used to selling one big idea to thousands instead of multiple creative ideas that now need to resonate."
The panel's conversation turned to the fact that AI is best at serving well-timed messages into the "lower funnel" marketing functions, and that emotional intelligence was needed to convert those one-time, perfectly placed connections into long-term brand loyalty. But just because AI isn't yet capable of creating long-lasting emotional messages doesn't mean it doesn't have an impact to the way consumers feel about a brand.
"I think a lot of this industry is organized around how we want to be organized and not how the consumers judge and evaluate us," Rani said. "People judge a brand by its actions and interactions, so what might be considered 'lower funnel' is as important a predictor of brand sentiment as anything else."
While the panel did a lot to reassure both marketers and agency creatives that their jobs would still be necessary no matter how capable artificial intelligence gets, there should still be a sense of immediacy when it comes to getting on board with this new technology. That's not just because of the risk of being left behind of your competitors, but because identifying and addressing potential issues is better done sooner than later.
There are multiple approaches to ensure an organization is prepared for that. Sommese said Discovery has brought much of its programmatic buying in-house, both to give its team more control over the AI and make sure it is infused with Discovery's brand and organizational DNA, hopefully adding to the ability to apply that emotional intelligence.
On the flip side, Rani said that AI, along with other forms of technology, is changing the role of its marketers, whose control over their brands is shifting.
"In CPG, historically a brand marketer was meant to keep their arms around the whole cloth, from product development to supply chain management to consumer-facing marketing," she said. "It's gotten so complex, now the job of a brand marketer perhaps is more about orchestration, knowing what the business goals are, specifying KPIs and having a learning agenda, then having an ecosystem of specialist talent. That's both internally and with external partners."