Millennials more trusting of digital ads: report
Ad Standards' annual research suggests the general population sees traditional ads as more trustworthy and accurate.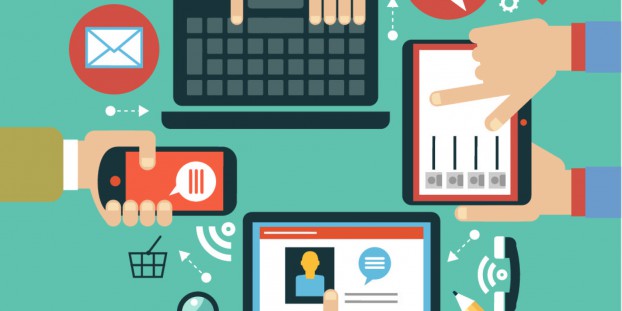 Canadians see advertising as more accurate and trustworthy than they have in past years, but digital ads are still viewed with some healthy skepticism, according to this year's Consumer Perspectives report from Ad Standards.
Working with The Gandalf Group, Ad Standards compiled the report based on a survey of over 1,500 Canadians representative of the general population this past July.
Continuing a trend from previous years, more Canadians have a favourable view of advertising. This year, 76% of consumers had either a "somewhat" or "very" favourable opinion of advertising, with 65% saying they find it at least somewhat helpful. Those rates have increased from 67% and 55% since 2014, respectively.
Another trend continuing from past years is the fact that consumers tend to view traditional advertising platforms as more accurate. Between 58% and 70% said they were comfortable with the level of accuracy of ads in newspapers, radio, magazines, TV and bus shelters, while no more than 37% said the same of ads in promotional emails, websites, search, online video and social.
However, while millennials had similar levels of comfort with traditional advertising platforms, they held more favourable views of digital platforms than the general population, with between 43% and 52% saying they were comfortable with their accuracy, depending on the particular platform.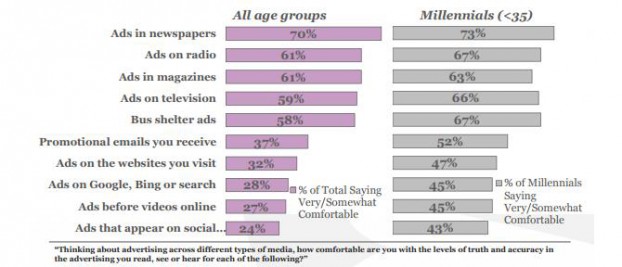 A similar trend could be seen with the perceived trustworthiness of ads on particular platforms. Among the general population, upwards of three quarters saw ads in traditional platforms as trustworthy (as well as the website for CBC, the lone digital platform), while ads on websites for other news sources and Facebook ranged from 57% to 29%. However, millennials are significantly more trusting, with the rate charting as much as 23% higher for digital platforms.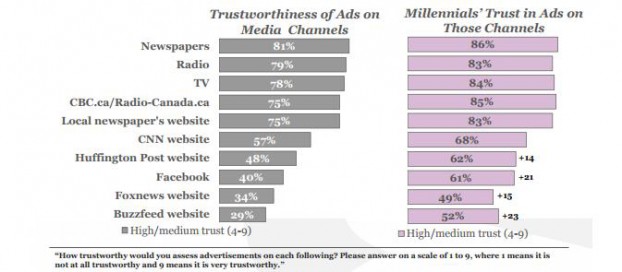 The biggest contributor to an online ad's trustworthiness is whether it comes from a brand the consumer is already familiar with (according to 83% of respondents), followed by official approval from Ad Standards (73%), if the ad provides sources for claims it makes (70%) and if they have also seen the online ad on TV as well (62%).
Only 39% of respondents said they were exposed to ads they deemed unacceptable (compared to 43% last year), while 47% said they stopped buying a product due to an unacceptable ad (compared to 56% last year).
The most common reason offered for deeming an ad unacceptable, with 17% of respondents, was false or dishonest advertising. The blame for dishonest ads is placed on the company or brand by 75% of consumers, followed by 62% who said the ad agency that created it and 37% who laid blame on the online platform (such as Google, Facebook or a website) that was hosting it.