Check it out: Indie88 sticks it to the man
The Toronto radio station focuses on the little ways we "declare our independence."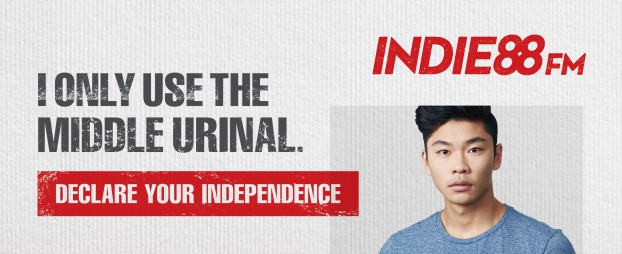 Toronto alternative rock radio station Indie88 has defined itself through its independence and quirky sense of humour, two things that have been brought together in its newest campaign.
In out-of-home ads and digital banners, the "Declare Your Independence" campaign forgoes talking about the music the station plays in favour of focusing on the spirit and attitude of the station.
The creative does this in a slightly off-beat way by highlighting all the little ways we break the rules and go our own way, like taking up the middle urinal in the bathroom or not using symbols or numbers in your password.
The campaign was led by Giants & Gentlemen, which won the business for Indie88 earlier this year.
Alanna Nathanson, partner and creative director at Giants & Gentlemen, says that while the launch of the campaign focuses on OOH and digital, the concept will soon be brought to life in social, online video and on-air.
Indie88 – owned by independent, Barrie-based media company Central Ontario Broadcasting – launched in 2013 on a frequency previously occupied by Ryerson University's campus radio station with an emphasis on alternative music and spotlighting local Toronto artists. Earlier this year, the station hired Josie Dye – formerly one of the most recognizable personalities at competing station 102.1 The Edge – to host its new morning show.