PwC opens Digital Experience Centre in Toronto
An expanded innovation space explores new tech and aims to solve client innovation challenges.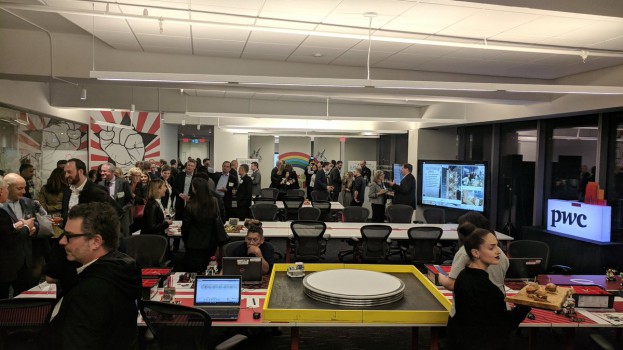 PwC has launched a Digital Experience Centre to Toronto, its second in Canada, in a bid to better position itself among clients looking to drive faster digital transformation.

The Centre is meant to be a place where PwC can bring clients to take "a human-centric" co-creation approach to solving their business challenges. Like other innovation hubs, the space offers clients the opportunity to "fail fast" – rapidly prototyping and testing ideas with PwC experts on the Digital Services team and moving forward with the development of (and investment in) the ones with the most potential.

The company says it will also be a space where it can build out proofs-of-concept for emerging technologies, specifically pointing to VR, AR, machine learning, IoT and robotics.

For example, during a media tour, staffers showed off a proof-of-concept product for police that would bring AR to a crime scene using a HoloLens headset. Another display used IoT devices to pilot remote-controlled autonomous vehicles.

PwC also anticipates the Digital Experience Centre will capitalize on the diverse expertise and backgrounds of some recent additions to its digital team, such as creative director Jon Finkelstein.

The consultancy has been working to shed the image of a traditional business consulting firm, and a major part of that has been building out its Digital Services team in Canada with strategic and creative talent. The Toronto centre is the second PwC has launched in Canada (its first was in Ottawa) and is part of global network.

PwC is the latest consultancy in Canada to open a dedicated innovation hub. Accenture brought its Liquid Studio rapid prototyping space to Toronto earlier this year, while Deloitte has long operated an innovation hub in Waterloo's Communitech.