Shortlist for 2018 AToMiC Awards revealed
The brands and agencies with the most innovative work in media and advertising will be awarded March 28.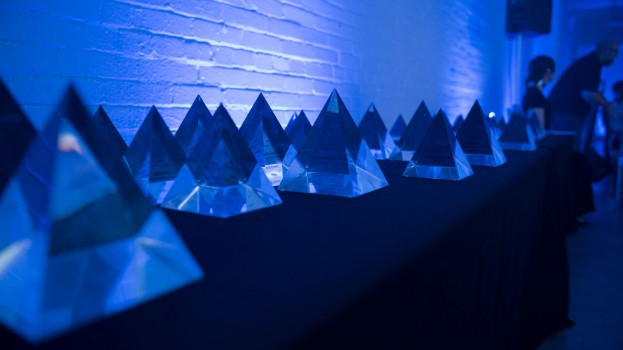 Following live debate and deliberation by this year's jury, the shortlist for the 2018 AToMiC Awards has been set.
The AToMiC Awards recognize successful collaborative work across Canada's media and marketing industries, including advertising, tech, media creativity and content.
The awards will be handed out March 28 at the culmination of the first AToMiCon, held at Toronto's Arcadian Court. The new event (which merges BCON Expo and the Playback Marketing Summit) brings experts together to share marketing success stories at a single pan-industry event. The agenda also now includes an Entertainment Marketing Summit track.
The full shortlist of nominated Commercial and Public Service campaigns – including the new Audio Branding, Brand Voice and Intellectual Property categories – can be found below, in alphabetical order by client:
| | | |
| --- | --- | --- |
| Campaign | Client | Agency |
| Root Brewery | A&W | Rethink |
| Goal-Synced Arena | AB InBev / Budweiser | UM / Anomaly |
| Goal Notification App | AB InBev / Budweiser | UM |
| A Room with Many Views | Alliance de l'Industrie Touristique du Québec | Lg2 |
| Slip Up | Alzheimer Society of Canada | J. Walter Thompson |
| Sneaky Like Pete Lie Detector Test | Amazon Studios | Thinkingbox |
| Crash Coasters | Arrive Alive | Rethink |
| Domestic Abuse Exposed | Assaulted Women's Helpline | Giants & Gentlemen |
| Things You Can't Unthink | Banff Centre for Arts and Creativity | Cossette |
| Stranger's Voice | Branch Out Neurological Foundation | Rethink |
| CanadaSound Project | CanadaSound | Cleansheet Communications |
| Don't Get Sextorted, Send a Naked Mole Rat | Canadian Centre for Child Protection | No Fixed Address |
| The S Word | Canadian Down Syndrome Society | FCB |
| Noise Cancelling Poster | Canadian Real Estate Association | Union |
| Break Bread Smash Stigma | Casey House | Bensimon Byrne / OneMethod / Narrative |
| Free AF | CCDI | Rethink |
| The Call That Comes After | Drug Free Kids Canada | FCB/Six |
| Jeep Unclimbed | Fiat Chrysler Automobiles | UM |
| Itty Bitty Ballers | GoDaddy | Wavemaker |
| Common Ground Integrated Campaign | Harley Davidson | Zulu Alpha Kilo |
| Cook This Page | IKEA | Leo Burnett |
| Living Logo | Innocence Canada | KBS |
| Story of Flash | Interac | Zulu Alpha Kilo |
| Unfiltered Posts | Kids Help Phone | J. Walter Thompson |
| Strokeable Billboard | Kimberly-Clark / Cottonelle | Mindshare / Ogilvy & Mather |
| SymPulse Tele-Empathy Device | Klick Lab | Klick |
| Now Streaming | Kruger Products / Cashmere | Wavemaker/John St. |
| Boombox | McDonald's | DDB |
| Snack Time | Milk West | OMD |
| Virtual Front Row Seat | Molson Canadian | Wavemaker |
| Canadian Apparel | OneMeth Goods | OneMethod |
| Be a Failure | Ontario Ministry of Health and Long-Term Care | BBDO |
| Sharpen Her Mind | Plan International | DentsuBos |
| Prickly TV Scavenger Hunt | Scotts Miracle-Gro Canada / Weed B Gon | Rethink |
| Banner Ad Curse | Svedka Vodka | Bensimon Byrne |
| SickKids VS: All In | SickKids Foundation | Cossette |
| SickKids VS: MomStrong | SickKids Foundation | Cossette |
| SickKids VS: DadStrong | SickKids Foundation | Cossette |
| Ghosts Of The Forum | Sports Experts | Rethink |
| Thermal Discount | Sports Experts | Rethink |
| Water Safety | St. John Ambulance | Rethink |
| Notes | Take Note | BBDO |
| EDIT: Expo for Design, Innovation & Technology | The Design Exchange | Astound Group |
| The Mind-Reading Billboard | The Festival de Magie de Québec | Lg2 |
| The Instagram Jigsaw Puzzle | Toronto Silent Film Festival | Red Lion |
| Sorry | Tourisme Montréal | Lg2 |
| Real Beauty Filter | Unilever / Dove | Mindshare / Ogilvy & Mather |
| Self-Esteem Project: Look How Far I've Come | Unilever / Dove | Mindshare / Ogilvy & Mather |
| Desert Roulette | WestJet | Rethink |
| WestJet Plus: Premium Economy for All | WestJet | Media Experts |
| Tenor Takeover | Weston Foods / D'Italiano | Union |
| Tags with Impact | World Vision | KBS |
| Six-Second Ambush Advisories | YWCA | Rethink |