CASSIES Silver: ATB amplifies its biz cred
The bank creates an anthem to connect with Alberta's growing community of entrepreneurs.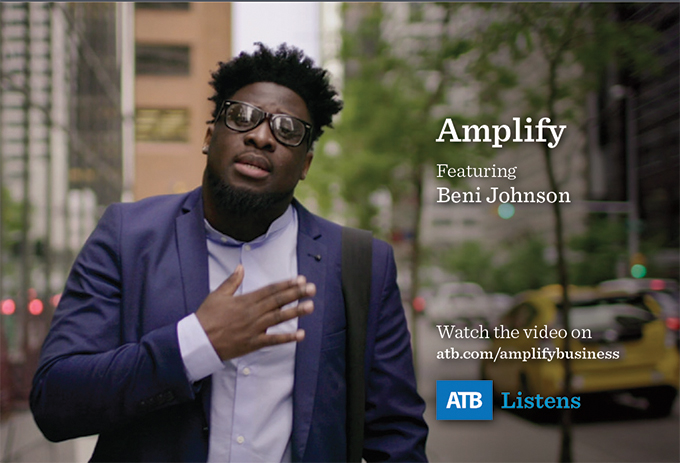 This article appears in the March 2018 issue of strategy.
+ Silver: Services
+ Bronze: Brand Content
ATB Financial serves new business owners with a dedicated banking division. Its Entrepreneur Centres provide free education and strategy sessions, and it has an accelerator program that provides free banking for start-ups. ATB's level of commitment needed to be communicated to Alberta's entrepreneurs.
New business owners travel a lonely road, but their journey impacts everyone around them. When a person becomes an entrepreneur, they amplify their own dreams, as well as the lives of their employees, the communities they serve and the economic engine of Alberta.
To show that ATB supports the entrepreneur's journey, ATB Channel 21 and Patton Communications created the "Amplify Anthem" video, which ran from October 2016 to June 2017 and was supported by a $200,000-plus budget. The commercial features an emotional spoken word piece by Albertan entrepreneur, Beni Johnson, talking about the daily grind that comes with being a new business owner and how ATB is there to support.
A digital media buy leveraged networking events, supported by signage and giveaways. The video launched on digital and social, supported by decals and online wallpapers, a monthly e-newsletter and charity donation cards for sales staff to gift to clients, as well as educational guides.
Results
During the campaign, ATB started relationships with 32,047 new entrepreneurs, an increase of 15% versus the year prior. Visits to the business section of the website increased 39%. The "Amplify Anthem" video tracked more than one million views. There was also a 10% increase in awareness for ATB and consideration with non-customers increased 5%.