All brands need is love…and the insights to build it
New research from Oath reveals six key brand characteristics essential for successfully courting today's consumers.
Building brand love is about more than pandering with clever pickup lines; consumer loyalty and affection isn't that easy to come by. To that end, media company Oath dug deep into global consumer data to uncover some key strategic insights that can give marketers the inside track on how to win consumers' hearts.
Working with Kantar Consulting, one of the world's leading research, data and insight companies, Oath created its first ever Brand Love Index, a research study that analyzed data from more than 150,000 consumers across 13 countries to understand why they love the brands they love.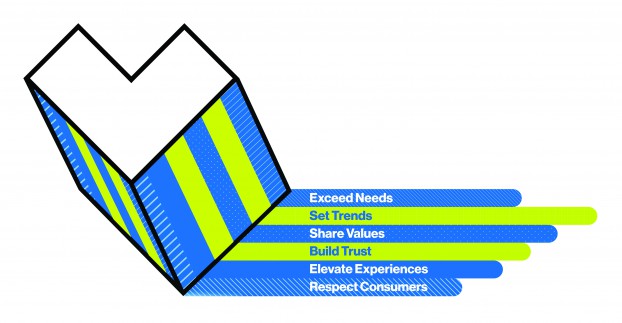 Oath uncovered six universal drivers of brand love that marketers can leverage in their strategies to better court consumers.
"While the idea of measuring brand love is certainly not novel, that brands are still striving for brand love indicates that there is more to be done," says Denise Brien, senior director of market research at Oath. "So much has changed about the way consumers interact with brands and what they expect from them that we saw significant value in furthering our understanding of what brand love means now, for today's consumer."
Oath's index found that there are six important drivers of brand love that span industry, age, gender and nationality: loved brands exceed needs, build trust, set trends, share values, respect consumers and elevate experiences. Armed with a fundamental understanding of why consumers love brands, marketers can align their strategies to build on each driver of love in five specific ways.
Outperform and overdeliver
Thirty per cent of brand love globally (32% in Canada) is determined by a brand's ability to exceed needs—the most important driver identified by the index. It found that such brands are obsessed with giving consumers what they want, often even before they ask for it. They do what no other brand does or do it better, like a Nike for example which went the extra mile to win affinity by building a community for recreational runners called the Nike Run Club.* To exceed expectations, not only should marketers focus on overdelivering on quality, design and performance in their product, but also their marketing, using innovative tactics like communities or immersive ads that encourage consumers to actually try out their products to move the dial.
Marketers can't find love without first earning trust, which drives 20% of the contribution to brand love around the world (24% in Canada). Earning trust requires building a personal relationship with consumers based on dependability and communication.
Ensuring that ads appear next to trusted content that matches both brand and consumer values is an important tactic marketers can use to check both boxes. And leaning on data to get a complete picture of how consumers act across devices can help marketers find new ways of understanding their audience so they can continue to improve how they communicate with them; the study found that even one mobile touchpoint—anything from how, when and where a brand serves an ad to a branded mobile app experience that engages with their audience—makes consumers 67% more likely to trust brands to use their personal data.
Rethink, reinvent, repeat
Consumers surveyed for Oath's research study said they're willing to go out of their way for brands that innovate in order to elevate experiences, which accounts for 7% of brand love in Canada, 9% globally. By creating new experiences that leverage things like VR, 360 video, and live content, marketers can bring their products to life in ways consumers haven't seen before. Consumers, especially younger consumers, also love disruptive brands whose innovations set trends (18% globally, 15% in Canada). Data is a key driver in both endeavours.
Consumers want to be seen using brands that share their values, care about more than the bottom line and support the issues that are meaningful to them (12% globally, 13% in Canada) – Dove, for instance, effectively used advertising and content to become inextricably linked with the beauty in physical diversity.* The Brand Love Index study found that 69% of consumers expect the brands they love to publicly support equality and diversity. Speaking out using the power of storytelling through high-quality, immersive branded content, marketers can make it clear what their brand stands for and connect with consumers that share those values.
Finally, marketers (obviously) need to know their audience. Younger consumers expect different things out of a relationship with brands compared to older consumers, just as they do with personal relationships. Canadian millennials, for instance, place more of a premium on elevated experiences and consumer respect (11% globally, 9% in Canada) compared to older Canadian consumers, who, conversely, find exceeding expectations and trust to be more important characteristics.
Marketers should try different tactics for each demographic, even within the same campaign. Experiential and native ads let brands tailor their message to who's seeing it and where, and cross-device targeting can be used to create a seamless experience from mobile to desktop. Boomers surveyed for the study reported they had at least one mobile touchpoint with their favourite brands.
All in all, what Oath's brand love index reveals is that building a successful brand is more complex than ever. But love is still the most important ingredient for creating long term affinity.
*brands mentioned in this article did not participate in the research and are mentioned only to serve as examples to provide context Visit love.com for more information