Reactiv: Better brand stories
From its music video start to last year's relaunch as a creative studio, this shop brings a unique approach to production.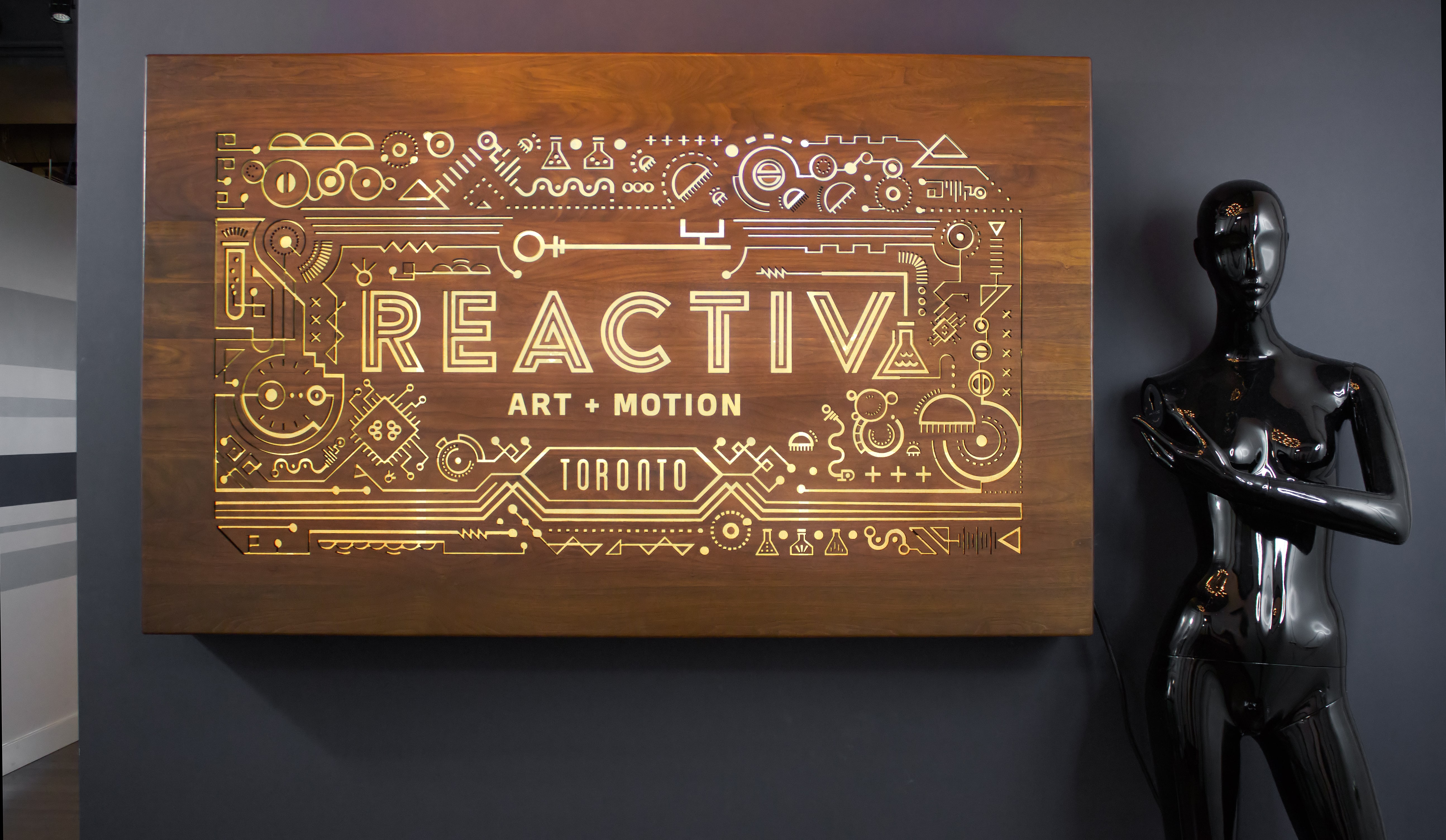 The shop's new front signage is a striking wooden sign that is OLED backlit by a unique, changeable animation that's visible through the intricate logo on the front.
Executive producer Anna Junger and creative director Alon Isocianu set up their Toronto shop in 2007 with a lofty goal to bring high-concept imaginative visuals to the music video business. At that time, music videos were fairly low budget compared to the advertising industry. Fast forward a decade and the ad industry is now looking for high-end effects and animation without the high ticket price, so the shop has been putting its visual effects and motion-design skills to work for agencies.
Junger says, "We're creative collaborators who execute high quality visuals with both creative and technical expertise. That's why people like working with us. It started with music videos but bled into commercials when ad agencies noticed how versatile and invested we were in every project. The work we were doing in music videos was ambitious and highly visual, very imaginative – and that was something we were able to showcase to agencies."
Although Reactiv has expanded its areas of expertise, the in-house staff has stayed small by design. Junger says, "We have a very nimble team – Alon and I alongside a handful of other designers, animators and compositors. We obviously scale up when a project requires more production. I think that makes us a little bit more of a family, a little more collaborative."
Reactiv has been working with agencies and directly with brands for several years now creating campaigns for big names such as Nike, Scotties, Dove, Pinnacle Vodka, Joe Fresh, Husky and many others.
Last year, the shop worked on the ADCC and Clio award-winning Dove Self Esteem project with Unilever and Ogilvy & Mather. Reactiv created a touching 60-second commercial using old photographs and newly shot footage to create emotional portraits featuring young women, all of whom had completed Dove's self-esteem program, entering the photographs of their younger selves. The piece highlights the confidence and beauty that comes with strong self-esteem.
Reactiv worked with Ogilvy & Mather on the Dove Self Esteem project to create a 60-second spot highlighting the impact that strong self-esteem has on young women.
For Pinnacle Vodka, Reactiv designed and animated six 15-second computer generated commercials to run between segments on three of Shaw Media's main networks. The spots highlighted three Pinnacle Vodka flavours with unique environments and animations for each flavour. The spots were created using 3D animation techniques, including the precise modeling of the Pinnacle Vodka bottle and specific abstract 3D accents added to each scene.
Reactiv worked directly with the internal team at Shaw (now Corus) to produce six 15-second computer-generated spots. Unique environments were created using 3D animation, including precise modeling of the bottle. Each spot highlighted one of the three Pinnacle Vodka flavours.
Isocianu, a filmmaker and visual artist with over 10 years of directing, editing, motion design and visual effects experience, says that in the future,Reactiv wants to do more work with emerging technologies. As an example, a 15-second spot created a few years ago for Scotties tissues with John St. featured 3D-generated Scotties tissue boxes that would drop into a room and the box design would accent the décor. Today, Isocianu says he would pitch, in collaboration with agency creatives, the idea of an augmented reality app to go with it.
"People at home could point their phone's camera towards a surface in their house, like a coffee table or desk, and the app would sample the color in the room and then on their screen they'd see a virtual 3D tissue box drop onto their table with a matching box design," says Isocianu. "I feel our understanding of design, composition, color and 3D animation would allow us to bridge the visual divide between the broadcast/ content world and the AR/VR experience."
CONTACT:
Anna Junger
Executive Producer/Partner
anna@getreactiv.com
Profiles: