Canada's Young Lions and Young Marketers announced
A look at the Gold-winning work that earned brand and agency staff a trip to compete in Cannes.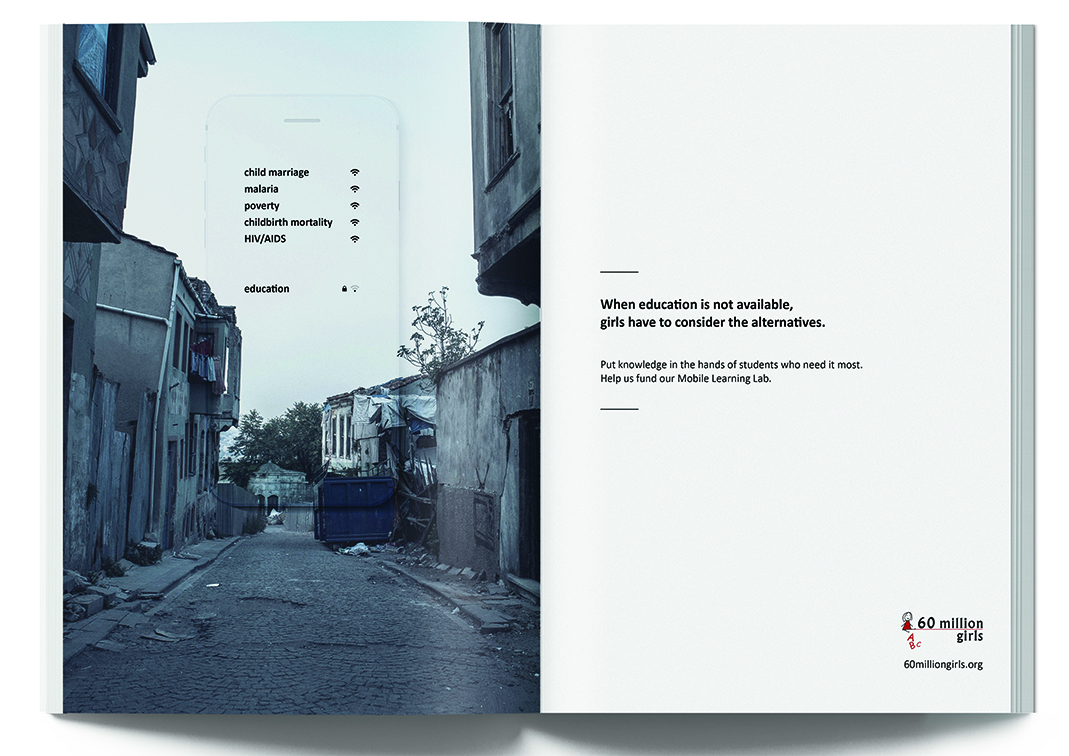 The Globe and Mail has revealed who this year's jury picked to represent Canada on a global stage with the announcement of this year's Young Lions and Young Marketers.
In March, teams of two were given 24 or 48 hours (depending on the category) to answer a brief from a non-profit client. This year's brief was from 60 Million Girls Foundation, a Montreal-based organization supporting education projects for girls around the globe. The brief presented to the teams was to help support the organization's efforts by inviting Canadians to help fund the Mobile Learning Lab, a tablet-based platform that hosts interactive games, videos and tutorials, which are solar powered, making it especially useful in areas where access to electricity or WiFi may be limited.
The Gold winners in each category, announced Tuesday at the CMDC Conference, won a trip to this year's Cannes Lions Festival of Creativity, where they will have the opportunity to compete in the global Young Lions and Young Marketers competitions.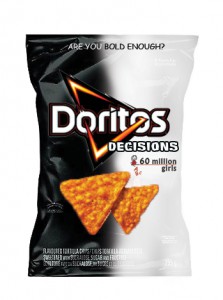 The winning Young Marketer team was Christian Alaimo and Jacob MacDonald from PepsiCo Canada, who came up with a concept called "Doritos Decisions."
The brand would release a new limited-time product of the same name, with each bag bearing a description of the issue 60 Million Girls is attempting to address. The bags would also contain a hand-written note from one of the girls that has previously been impacted by the Mobile Learning Lab, along with a Snapchat code. Scanning that code would take users to a screen that gave them the option to learn more about the issue, donate to the cause, find out how to be a volunteer or choose to "do nothing." The idea behind the project is that by making would-be donors actively choose to do nothing, it would drive home the fact that staying silent on issues of equality makes them  part of the problem.
The winning entry in the Print category (seen in featured image above) came from McCann Montreal's Mourad Bouaziz and Edouard-Jean Coune. The ad used the image of a WiFi selection screen to drive home the idea that when a child doesn't have access to education, it can push them to things such as child marriage, mortality in childbirth and poverty.
Charlie Glassman and James Pacitto from Leo Burnett Toronto won in the Digital category by capitalizing on the fact that many employers give candidates a skill-testing task before hiring them. Looking specifically at Google, which receives over two million job applications daily, the "Apply For Good" campaign would see the task be something that could somehow benefit 60 Millions Girls. For example, developers could code part of one of the Mobile Learning Lab's games, or graphic designers could create icons and other elements that make the learning process fun.
In the Film category, the winning team of Caroline Friesen and Robbie Percy from John St. created a video set to the alphabet song, with each letter bringing up a name of a different woman who has changed the world throughout history and the modern era. It ends with the note that supporting women's education doesn't just improve the lives of girls themselves, but has an even bigger impact on the world around them.
In Media, Christian Kern and Feroze Shah from Initiative Canada used the insight that the actual act of donating can be hard to fit in with day-to-day responsibilities to create a campaign that would make donating as easy as possible. The idea would send a group of YouTube influencers to Guatemala to create videos showing the Mobile Learning Lab in action. The influencers would donate all revenue they generate from views directly to 60 Million Girls, meaning Canadians can generate funds for the organization just by watching the videos.
The Gold, Silver and Bronze winning entries in each category can be found below.
Young Marketers
Gold
Christian Alaimo and Jacob MacDonald, PepsiCo Canada
Silver
Telis Carayannakis, Labatt Breweries of Canada, and Michael Holmes, P&G Canada
Bronze
Laura Mallozzi, KFC, and Alison Ruffo, Kimberly-Clark
Print
Gold
Mourad Bouaziz and Edouard-Jean Coune, McCann Montreal
Silver
Laura Cordova and Carly McCready, Taxi
Bronze
Ekaterina Garipova and Jaime Sugiyama, One Method
Digital
Gold
Charlie Glassman and James Pacitto, Leo Burnett Toronto
Silver
Alexander Boland, Sid Lee, and Jordan Gladman, Anomaly
Film
Gold
Caroline Friesen and Robbie Percy, John St.
Silver
Mathew Cruz and Emily Ferraro, Juniper Park/TBWA
Bronze
Patrick Godin and Michael Romaniuk, Zulu Alpha Kilo
Media
Gold

Christian Kern and Feroze Shah, Initiative Canada

Silver

Paul Linley and Kenon Mak, Mindshare Canada

Bronze

Victoria Marshall and Samantha Wanjiru, Initiative Canada