Agency A List – Juniper Park\TBWA
Powered by Disruption
The Juniper Park\TBWA leadership team, from left to right, CSO Mark Tomblin, CCO Graham Lang, CEO Jill Nykoliation, Managing Director David Toto. Lang joined the agency in December from South Africa.
After bringing the power of Disruption to its clients, this borderless agency is turning its sights on itself and redefining the category in the process.
Jill Nykoliation has taken her agency's philosophy of Disruption to heart and is on a mission. The Juniper Park\TBWA CEO has assembled an international leadership team, launched a new content production studio and is aggressively growing the agency's roster of Canadian and U.S. clients. She's also prioritized diversity and is creating an internal culture that reinforces the agency's Disruption philosophy while supporting career growth.
The approach is working. In the past year, the agency has won six new clients and more than 200 global, regional and local awards for creativity, design and effectiveness.
"We've been so successful in helping our clients disrupt their own categories that we thought it was time to apply the same approach for our business," says Nykoliation. "The process has been nothing short of transformational and we've created incredible opportunities for growth."
As part of the agency's commitment to thinking differently, Nykoliation eschewed tradition and looked outside of Canada to recruit top talent.
"Being able to recruit globally has been an absolute game changer for us," says Nykoliation. "This international experience is exactly what clients want, and what their business deserves. If you really want the very best, don't put geographical fences around it."
The agency's leadership team includes CCO Graham Lang who brings senior experience from the UK and South Africa; CSO Mark Tomblin from UK; and managing director David Toto from France. In May, new ECD Jenny Glover arrives from legendary agency, TBWA\Hunt\Lascaris in Johannesburg. The team's creative credentials are impressive. Lang, who joined JP\TBWA in December 2017, has 30 Cannes Lions and 16 D&AD Pencils to his credit and Glover, one of the most awarded female creatives in the world, has won 21 Lions, including a Grand Prix, and four Pencils.
For CCO Lang, creativity is not bound by borders. "Toronto has such an amazing appeal because of its diversity. This plays perfectly to our borderless ethos and taking on international projects with U.S. clients." he says.
The diversity of JP\TBWA's entire team provides fresh and distinctive thinking to the agency's work. With 57% of the agency team being female, 52% having lived in another country, and 48% of staff able to speak two or more languages, clients benefit from global thinking on their business.
Under chief strategy officer Tomblin, JP\TBWA has invested heavily in data and analytics and adopted Disruption Live, a propriety approach to identifying cultural triggers that intersect with a client's brand.
The power of JP\TBWA's approach can be seen in its work. The agency recently disrupted the automotive category, winning three CASSIES in two years for its client Nissan, including one for five-year Sustainable Success. The JP\TBWA team also helped shift perception of GoDaddy from a domain registration service to an integral partner of the entrepreneurial movement. And, they've helped catapult CIBC to be the most breakthrough bank in Canada with a highly engaging brand platform that stands apart in the homogenized financial services category.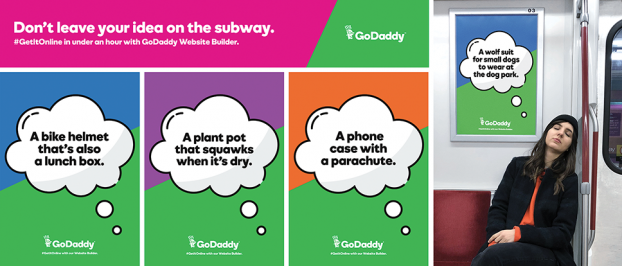 Using out of home ad space on the subway, Juniper Park\TBWA and GoDaddy illustrated people's thoughts and business ideas that GoDaddy could bring to life online in less than an hour.
In March, JP\TBWA launched its new content production studio, BOLT Content, a standalone entity designed to offer a more nimble approach to developing online content. In April, the agency unbundled its design service to create a separate design company led by group creative director, Louis Duarte. It will also soon be introducing a new data capability.
Nykoliation says launching some of the agency's expertise as standalone entities is an important step because each one is such a powerful tool on its own. "Specialization is critical for our continued growth strategy. Clients are looking for demonstrable expertise in content, data and design and it's important that we're evolving too in order to stay ahead of this trend."
Juniper Park\TBWA's platform for CIBC has consistently achieved breakthrough success in the sea-of-sameness financial industry. Their newest work for CIBC's Aventura card pushes this brand platform further forward.
Juniper Park\TBWA and Nissan have worked together to win three CASSIES awards over the past two years for their work on the 'Conquer All Conditions' platform. The most recent work featured the Return of the Snowman.
Juniper Park \TBWA client work
Bottom line, Nykoliation says the goal is continuously pushing for greater precision, while also being more nimble. "We use the power of Disruption to build amazing brands that drive results."
Profiles: