The Agency A List – Zulu Alpha Kilo
Saying no to the status quo.

Having already created an immersive environment for bikers with 1903: A Harley-Davidson Café, the agency did the same for Harley-Davidson employees. Zulu's design group designed the entire Harley-Davidson Canada head office complete with a "Let's Ride" sign made out of 1,100 motorcycle handgrips in the lunchroom.
Zulu Alpha Kilo has been described in many ways – innovative, disruptive, cheeky – but what always comes to mind first is the shop's acclaimed creativity. Launching at the height of the recession a decade ago, the agency has always believed in delivering more than just award winning-work with what it calls 'creativity with purpose' for brands.
Zak Mroueh, founder and CCO/CEO, says, "Our idea of creativity is rooted in the belief that, as an independent shop with skin in the game, our sole purpose is to serve our clients' business challenges versus the business challenges of a holding company. We've found holding companies give their leaders an impossible task – win awards at Cannes to fill awards quotas, win new business to fuel revenue growth, cut costs, reduce staff and, of course, report strong profits to shareholders."
He adds, "Clients barely fit into the equation. This self-serving model has opened up a door for independent shops like ours to thrive." On the global stage, the Toronto shop has certainly thrived, recently being singled out as the top-ranked Canadian agency on the WARC 100 list of the world's most effective agencies, coming in at #29 globally. Produced by the Gunn Report, the WARC 100 is an annual ranking of the world's top agencies and campaigns based on business impact they've had on their clients' business. Zulu was the only independent Canadian agency on the list.
This year, the agency also landed on another prestigious list alongside Canada's business elite. Zulu was named as one of Canada's Best Managed Companies through a rigorous selection process led by Deloitte and CIBC. Zulu was recognized for fearless leadership, creative innovation and world-class business practices. Maclean's and Canadian Business profiled the agency in their April issue.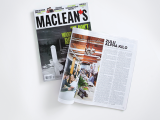 Zulu was cited for its disruptiveness and profiled in the April issue of Maclean's after being named one of Canada's Best Managed Companies. The rigorous selection process of identifying 2018's top companies was led by Deloitte and CIBC.
Before setting up shop in 2008, Mroueh's vision for the company was to be as innovative in the way it operated as in the creative it would produce. For Zulu that has meant being in a constant state of evolution.
"Who knows what an agency is going to look like in 10 or 15 years. We're always thinking about how to get ahead of the curve rather than just following the same worn-out path that most agencies take," says Mroueh. Zulu's future-forward leadership team includes president Mike Sutton, who joined the agency in 2010. Sutton's digital marketing, client service and strategy expertise is a balanced complement to Mroueh's disruptive founding vision.
Sutton says, "Creativity is the one discipline that clients haven't been successful at bringing in-house. It's why they hire us. Yet in many shops it gets the least attention. Creative success for us lies in having trusting relationships and true business partnerships with our clients. Each business challenge is unique and needs to be tackled from a unique strategic and creative perspective."
That entails strength across disciplines, which is another goal the shop has mastered. Zulu was one of only a few shops in Canada shortlisted in three categories of strategy's annual agency of the year competitions: Digital, Design and Advertising. That capped off a breakthrough 2017 that included recognition from Ad Age in the US as International Small Agency of the Year for the second year in a row.
Zulu's body of purpose-built creative work has always been the best advocate for the shop's creativity.
Recent examples include an eight-hour Facebook Live event, which had the KitchenAid Professional Series blender creating smoothies out of emoji food combinations. Zulu also excels at crafting connections through emotional storytelling. A PSA campaign for Uber Canada with Mothers Against Drunk Driving (MADD) delivered the powerful message that no mom should have motherhood taken away by impaired driving. For Zulu's newest client Tim Hortons, a social activation brought together neighbours who had never met, documenting their first conversations over a cup of coffee.
"Creativity can be a scary word for cautious clients," Mroueh says. "But embrace it as a business tool and it can unleash your brand, giving you an unfair advantage over your competition."
Profiles: