The Agency A List – Bleublancrouge
The creative shop is obsessed with finding new ways to inspire consumers to spend time with brands, in meaningful ways.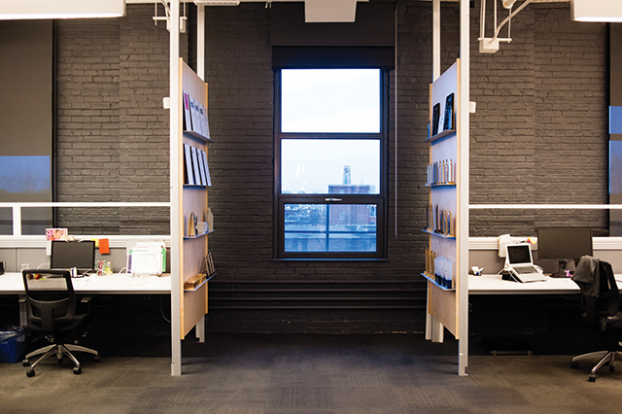 A window into the soul of BBR: Amid changing consumer habits, the agency is looking out to the future of the agency, with a new office, new approach to expertise, and a new philosophy on what matters most for brands. 
It's been a transformative few years for Montreal and Toronto-based Bleublancrouge.
The creative agency launched its first office outside of Quebec, with Wahn Yoon as president of BBR Toronto; picked up a number of national and international clients; and unveiled a host of new disciplines and client offerings, including a data consultancy, a content studio and a team of 14 people who specialize in mobility and transport.
The rapid growth and evolution at the agency stems from a shift in philosophy, says BBR Montreal president Simon Cazelais. "Everything we've done over the last 18 months [at the agency] has been around creating utility and meaning for consumers, not strictly advertising," he says. "Advertising is about being 'intrusive,' but to us good marketing is about being essential, embedded – something consumers simply can't imagine living their lives without."
The reasoning is simple, Yoon adds: "Amid a deluge of information, the most valuable commodity for a brand is a consumer's time. And we know that in many parts of the world, including North America, people are working longer hours and doing more with less time.
"Getting consumers to spend more time, and repeated time, with our clients' brands has become the mission of the agency," he adds. "In the 20th century, agencies were really focused on CPG brands, so the tools and offerings [they had] were designed to move units of goods. But today, the world isn't made up of 'stuff.' It's made up of experiences, and we want to focus in on how to deliver those experiences."
Part of the effort has been to increase expertise in specific fields, adds Cazelais. While the agency was never on the "jack-of-all trades, master of none" spectrum, having deep-level expertise in certain industries and disciplines is helping differentiate the agency for clients, especially industries such as retail, hospitality and entertainment, where time spent is the holy grail. He points to data and analytics, experience design and gamification, for example.
Bleublancrouge client work 
This year, the company launched Glassroom, its own marketing data consultancy, a space where clients are invited to work alongside the agency. This new offering is custom-built to help clients get the most out of their of marketing and business data. "In a market where holding companies are keeping clients dependent on their platforms, we decided to build a new path, designed around total transparency and proprietary data for the client, not the agency. Everything is shared openly: knowledge, observations, expertise, insights, and ideas. It's a place where everyone – as one team – continuously explores, analyses, learns and applies those learnings immediately," says Cazelais.
But the agency has been investing in more than just skills development. This year, it launched Commuter, the first in a series of industry practices that will hyper-focus on contemporary verticals that represent where people will be spending the majority of their time and dollars, but in whole new ways.
The intent of Commuter is to be a catalyst for mobility projects of the future. "The rapid evolution of modes of mobility and transportation is transforming how brands are bringing their products and services to consumers" says Cazelais. "We've built an ecosystem of subject matter experts to guide organizations in this major change, a practice dedicated at keeping everyone centered around evolving human needs.
The 14-person team will be able to help BBR clients like Toyota or French Tech company Vulog identify the new ways consumers are moving about, the brand challenges this creates and solutions that span creative to media to even business practices.
"Agencies have been slow to catch up to major behavioural and lifestyle changes," says Yoon. "We're focusing on staying ahead of the curve."
The plan is to introduce similar practices around entertainment, retail, hospitality and placemaking (real estate and mixed-use development).
The result of Bleublancrouge's evolution over the past 24 months has been a marked uptick in new client wins – including D-Box, Breville Canada, Plan Canada, Dulux, and multiple brands at Marriott International. It's also picked up a number of awards, including a wood D&AD pencil for its work with Ubisoft and nine Creas for clients including paint brand Sico.
BBR has also increasingly been leading strategy and creative for clients with global reach, says Yoon, pointing to upcoming work for Plan International Canada, as well as the new global brand strategy for Sheraton. Both are expected to enter the market later this year/early next and are transformational projects. "We've found we're very good at reinvention and brand transformation," Yoon says.
BBR is also part of an independent group called Humanise, companies all led by entrepreneurs like Cazelais and Yoon. Humanise is a collective made up of leaders, creators and thinkers committed to the idea of helping brands do good in the world. "This means helping them get back to their purpose and their unique way of making a contribution to society, their real reason for being," says Cazelais. "Our job is to help them figure this out and find endlessly creative ways for brands to contribute to human lives."
Profiles: