The Agency A List – UM Canada
The day-to-day focus at the Interpublic Group agency is about raising the bar for themselves and the industry.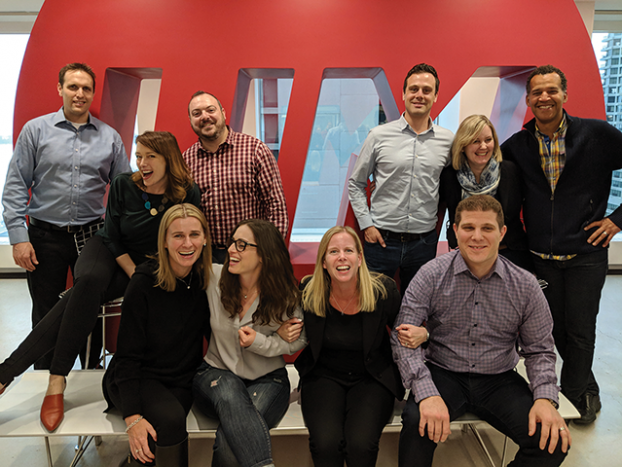 UM president, Shelley Smit: "We are always trying to go beyond the expected and do more. Fueling that passion is important to us. It is the passion of our people that drives our success and our quest for better."
For UM Canada president Shelley Smit, the day-to-day focus at the Interpublic Group agency is about raising the bar for themselves and the industry: Better science. Better art. Better talent. Better training. And better outcomes for clients.
It's an approach that has not only translated into a rash of new business wins, including GoodLife Fitness, Expedia, Tim Hortons, Netflix and CAMH, but also significant industry recognition – 36 awards in the past year alone – making UM the most decorated media agency in Canada.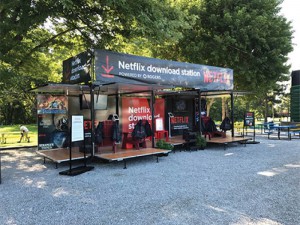 UM helped prevent the great Canadian getaway from turning into the great Canadian entertainment gap by creating Netflix "Download Zones" along key routes into cottage country. The zones enabled travellers to download their favourite shows for off-line viewing in areas with spotty internet coverage.
This includes international recognition at Cannes Lions and Festival of Media awards and "effectiveness" wins at the Cassies and Effies across a broad range of clients and categories. UM was also the most-awarded agency at the 2017 Media Innovation Awards (16 trophies, including Best of Show for the "Budweiser Light Up the Nation" campaign).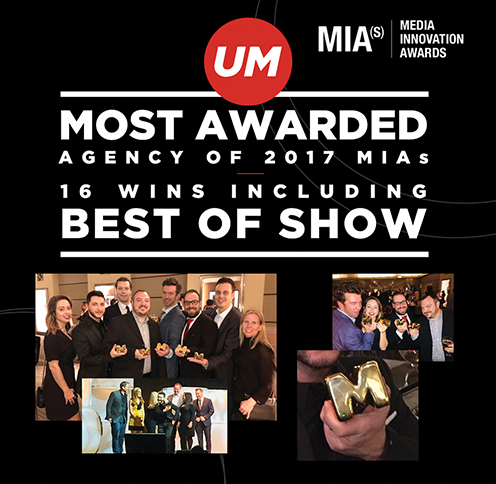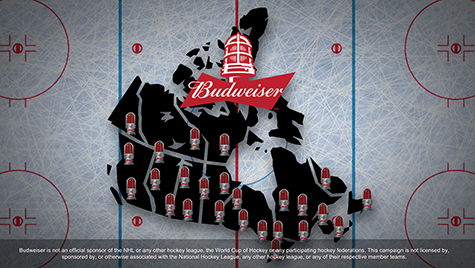 UM staff celebrated an industry-leading 16 awards at the 2017 Media Innovation Awards, including Best of Show for "Budweiser Light up the Nation", featuring the "Red Light Goal Notification App". UM is Canada's most awarded media agency, with over 36 awards in the past year alone, including international recognition at the Cannes Lions, Festival of Media Global and the Effie Award shows.
UM is creating the template for a modern media services company, one boasting highly engaged employees delivering data-driven, creative media.
"We're committed to proving that media can be a topline growth driver," says Smit. "One of the challenges for our industry, and our clients in particular, is that they're under enormous pressure to deliver results. We've always been focused on outcomes. It's not about [ad] impressions. It's about driving sales and delivering impact in the market."
Smit and her leadership team are uniquely familiar with the demands on Canadian marketers to deliver results: nearly three-quarters of UM's senior leadership has client-side experience (Smit herself spent a decade with AB InBev before joining UM in 2008).
"[Our employees] have been clients themselves, so they can have those high-level marketing discussions," says Smit. "It helps them become a real business partner with the marketing team and work collaboratively as one."
There is also another word that comes up frequently in conversation with Smit: craft. "You can use a whole bunch of words to describe what you do, but we've got to the point where craft is our culture," she says. "The craft of what people do in their role within UM; the craft of unearthing and identifying powerful insights that fuel innovative work; and the craft of honing the best strategic approach to consumer connections."
From campaigns like the trailblazing web-based adventure series "Jeep Unclimbed", which celebrated the awe-inspiring journey of two Canadian mountaineers, to the creation of Netflix Download Zones, which surprised cottage-bound travellers with free wi-fi to download their favourite shows to enjoy later in cottage country's internet-free areas – UM challenges itself to create results-driven work that goes beyond the simple media metrics that once defined campaign efficacy.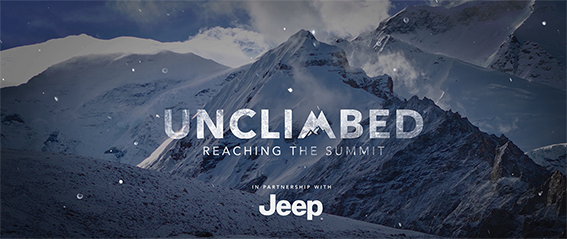 The bilingual content series, "Jeep Unclimbed", followed two Canadian adventurers attempting to tackle the unclimbed peaks of Nepal. Housed on Jeep.ca and distributed across digital, social and broadcast, it drove a huge sales lift vs. year ago, with flat budgets.
UM is also helping clients achieve their goals through the use of proprietary global approaches like the Business Analytics Engine (BAE), which embeds business analysts inside each planning group to model campaign outcomes in real time, and WAVE 9, the world's largest ongoing social media study, which provides a comprehensive overview of people's social media habits in 65 countries (including 1,500 Canadians).
Smit says that adding rigor to media thinking and data to creativity is helping set UM apart in an increasingly competitive marketplace. Its proprietary relationships with data partners such as Amobee – which captures 60 billion online interactions each day – are helping the agency develop insight-fuelled, high performance media plans.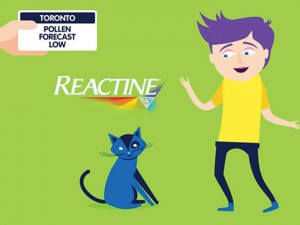 For "Reactine Pollen Alert," UM's J3 partnered with Aerobiology Research Laboratories to analyze pollen levels for various cities – using the data to optimize media-buying in real time and creating branded regional updates using 6-second YouTube bumpers.
"Our Decisions Science team uses [Amobee] to understand consumer behaviours across a range of categories [so we can] map out feelings, emotions and needs – even the devices and platforms they're using – in those specific moments," says Smit.
There are also some key "soft" examples of how UM's emphasis on better is benefiting the agency, most notably by contributing to employee satisfaction and retention.
Programs like the in-house training and development program Better U – which provides employees with inspiration and guidance on everything from how to develop better insights, to building powerful connection strategies, to managing your personal brand – contributed to an employee turnover rate of less than 10% in 2017, well below the industry average of 30%.
"By creating a culture that champions the craft of what people do, and building programs that foster growth and support each and every team member, [employees] are getting the best out of their work, they're feeling valued, challenged and supported," enthuses Smit.
Cultural fit is also key. Smit meets with every potential new hire at UM, from assistant planner to senior VP, placing an emphasis on what she describes as "high-performing, dynamic people who really believe in propelling their own careers."
She adds, "Over time, we have become a team who lives a 'YES &' culture where we are always trying to go beyond the expected and do more. Fueling that passion is important to us. It is the passion of our people that drives our success and our quest for better."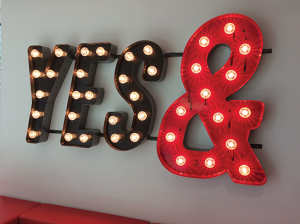 Prominently displayed near UM Canada's main entrance, the "YES &" sign embodies the spirit of an agency intent on creating the template for the modern media services company.
Profiles: