The Agency A List – Veritas
The PR agency gets more strategic and creative with its offering to stay ahead of the trends.
Rob Dean, Creative Director, working behind the scenes on a project, exemplifying the agency's expanded creative and content offering. 
Toronto's Veritas Communications literally trademarked the idea of influencing the influencers, which has manifested in some of the agency's recent award wins, including Holmes Report's "Top Five Most Creative Agencies Globally" or the Holmes' title of "Canadian Agency of the Year" twice in a handful of years.
But a changing market reality means that to stay ahead of the trends, the PR agency needs to be even more strategic and creative with its offering. To do this, it's doubling down again on creativity, deepening its ties to its community of influencers and investing more in strategy.
It's all starting with whom the company hires.
"From this day forward, every hire we make needs to be an influencer and a practitioner," says Krista Webster, president, Veritas. "You might be a copywriter, but we also want you to be a photographer or a foodie or an artist. Multiple passions and skills makes you innately more creative, and we want this expressed in the agency at every level."
She points to Rob Dean, the agency's newest creative director addition, who joins the team as a Cannes awarded advertising agency veteran. While Dean has a strong background in marketing – and will be tasked with further building out Veritas' creative approach – his entrepreneurial background also factored into the decision to bring him aboard, says Webster. For example, he helped his wife design and launch Glory Hole, the popular donut store in Toronto's Parkdale neighbourhood.
Having people with a secondary talent or a strong social following makes a lot of sense for the agency that bills itself as one that influences the influencers, Dean says. "These days, almost everyone has a side hustle, a creative outlet – especially creative department people," he says. "This side hustle gives them an even stronger understanding of things like social media or influencer media work. When talking with clients, there's a certain amount of clout that comes with having successfully launched your own business or having 1,000 Instagram followers."
Coupled with this backbone of on-the-job and off-the-job creative employees, Webster says the plan is to begin inviting influencers to co-work in the Veritas office. While the agency has always brought aboard its influencer set – both in the social media and media world – to work with brands on campaign launches, inviting them to share the workspace formalizes that co-creation relationship, she says.
Today, everyone works with influencers, and it's very normal to pay these social media stars. But the more people play in this space, and the more money that exchanges hands, the less authentic these relationships and pairings can become. Bringing people in house to co-create with a brand and looping these stars into planning sessions, creates a stronger dialogue between the agency, the brands and these influencers.
"It helps us get to a place where they feel invested in the work, in what the brand believes," Webster says. "The end goal is to make sure they don't feel like they've just been handed a project they have to complete."
The co-working plan should also result in a symbiotic relationship between the influencers working in the office and the staff – they can ask questions of the PR professionals to amplify their own reach, and vice versa.
She points to recent "Casa Corona" campaign as an example of this approach. Working with the likes of Jeff Isy, a popular Instagram photographer, YouTuber Chris Hau and more, the influencers were given key objectives, legal parameters and overall brand guidelines but were given free-range to create content that was meaningful to them. The end result was a long-weekend getaway built around sunset moments. The pair photographed and filmed the excursion, who then shared the content organically with their own followers. The campaign achieved 5X the social impressions KPI.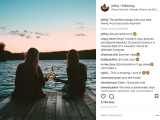 Built around sunset moments, Veritas and Corona invited a cadre of influencers up to a cottage to help create Instagram and YouTube worthy content.
In addition to bringing influencers further into the agency fold, Veritas plans to add three to five ADs and copywriters to its creative team, led by Dean, to guide the content and experiential output from the agency. It also plans to grow its production team. Right now, about 60% of all content production is handled in house, Webster says. The goal is to have about 90% handled internally by this time next year. To do so, the company is actively hunting for illustrators, videographers and animators to join the team (such as the recently hired videographer, Krishan Thapar who, as a side project, built his own 4K 360 camera).
Finally, Veritas plans to bring aboard more strategically minded employees to lead planning efforts for clients, such as media or channel planners who can help guide how the below-the-line activations are seeded out beyond the earned media space.
"We want the influencer content we put out to the world to be the equivalent to the great spots that advertising partners are putting out there," she says. "I want to get to a place where, when we put paid media behind the amazing below-the-line work we do in digital influence and social it performs the same, if not better than, the content from other creative agencies."
Profiles: