Voice-powered assistants will get past gimmicks
Alphabet's Patrick Kavanagh on how the latest demos of the technology show just how game-changing it will be.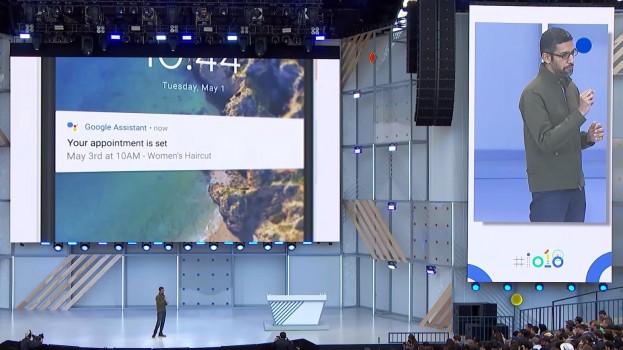 Google CEO Sundar Pichai demos some newly developed features of the company's Assistant at this year's Google I/O conference.

By Patrick Kavanagh

I have spent the entirety of my career focusing on the human experience, looking at the world through the lens of a sociologist. In the 15-plus years since I entered into the realm of experiential and immersive strategy, I've seen many shifts in the way we communicate. The current round of changes is creating a shift unimaginable when I first started.

Having a forensic phonetician as a partner has made me more aware of voice than ever before. Forensic phoneticians are able to parse every frequency of sound and analyse it with incredible accuracy. And the science that supports our attraction to different voices is endless. A 2010 American Institute of Physics study found that "males and females for the most part agreed on what an attractive male or female voice sounds like," and suggests that certain voices can define how we see beauty, in all things. The voice is powerful because it's an audible representation of beauty that brands have been using since broadcasting began.

As I was writing this piece, the latest demos for the Google AI Assistant and the Google Duplex system were released, and it's game-changing. The demos further defines how voice technology is going to be a mainstay as a brand experience. It highlights that we're certainly in the "gimmick phase" of voice, but brands are starting to take serious note as to how it may affect them.

It's not news that we're busy and always looking for ways to save time. As you're putting your unique spin on mac and cheese in the kitchen, you can now check on your pets' health. Ask Purina, in partnership with Alexa, lets users look into dog breeds and research health information for pets hands-free, creating a new breed of multitasking.

What is even more interesting is that voice technology will soon be able to track and understand nuance. This will be a mind-bending change in how we interact with assistants, with the potential for an emotional bond. Maybe not quite to the level of Samantha in Spike Jonze's film Her, but as this technology evolves and brands develop their own unique trusted voice, the experience has the potential to be more nuanced than interacting with an unfamiliar shop assistant in a brick-and-mortar store.

And you don't even need to leave your bedroom. This means that when I order my favourite libation, for example, the voice assistant will recognize my voice and select options based on my preferences; a few minutes later, my wife could make the same request and get a different set of selections. This all has a distinct sense of familiarity.

Not too long ago, mobile phone apps entered the market with a few "gimmicks," like the pouring of the beer when we tipped our iPhones, the mildly useful carpenter's level. If we remember those early years and compare them to today where we have incredibly complex apps that can manage large portions of our lives, the challenge for marketers will be developing content that is resonant enough to solve complex everyday problems.

As we see with the Purina example, this is certainly coming down the voice assistant pipeline. What will be vital is for brands to create a fluid, trusted voice that will understand our individual needs. The data captured from this will construct an incredibly complex algorithm that will have a detailed understanding of our purchasing and research habits. This will also be an unprecedented change in shopping habits and also be a further threat to bricks-and-mortar. We've seen over 7000 retail stores close in North America in 2017 alone.

Once we get past the gimmick stage, voice assistant technology is going to be a game-changing experience for both consumers and retailers. It's just going to require marketers and brands to work together to develop some incredible experiences. This is happening, and it's going to move fast. The brands that get involved early will be well placed to reap the rewards.

Patrick Kavanagh is director of brand experience at Ottawa-based agency Alphabet.