Camden opens office in Lyon
Months after opening a Toronto office, the boutique agency expands into France as part of a long-term strategic growth plan.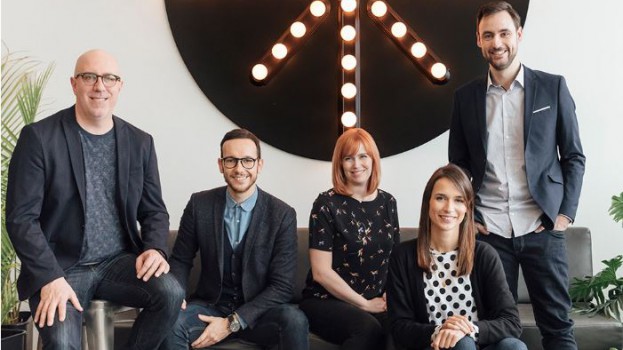 From left: Mathieu Bédard, Camden group president; Lionel Farget, VP of creation at Camden Lyon; Marie-Michèle Jacques, Camden group SVP; Fanny Mounier, VP of strategy and client services, and Thomas Ardisson, VP of business development at Camden Lyon. 

Six months after adding a second office in Toronto, boutique agency Camden is launching European operations with the addition of an office in Lyon, France.

Camden Lyon is the "first step" in the agency's European expansion plans, according to an agency press release. It hopes to build an international network of offices, each capped at 50 employees, in order to preserve its boutique-style, bilingual offering.

The new office officially launched on May 23.

In expanding its operations, Camden has acquired local French agency Les Distilleurs, whose founders Thomas Ardisson, Fanny Mounier and Lionel Farget are staying on as partners and shareholders in the business.

Ardisson will serve as VP of business development, while Mounier takes on the role of VP of strategy and client services and Farget the position of VP of creative. Mathieu Bédard and Marie-Michèle Jacques, respectively president and SVP of the Camden group, will serve as senior partners at Camden Lyon, while Anne-Christine Normand, who previously served as studio director in Montreal, will head operations in Lyon.

John Dutton, VP of creative at Camden, and Sandrine Cyr, executive director of the Toronto office, say the secondary French market of Lyon was selected (as opposed to Paris) for a number of strategic reasons, including the "cultural fit" between Lyon and Montreal and between the agency's existing team and the partners at Les Distilleurs. Cities across France, Belgium, Switzerland and Germany were considered, with a list of a hundred agencies identified for potential acquisition.

The French market is particularly well-suited to the agency, given that one of its points of differentiation is offering bilingual services in all its disciplines, as opposed to having work translated into French from English, says Cyr. Camden offers services in strategic planning, branding, advertising, film production, social media and digital marketing.

Working closely with the Montreal and Toronto offices, Camden Lyon will offer its full suite of services across European markets, with the Montreal leadership spending about a week every month in the new office, according to Dutton.

Founded in Montreal in 1991 under the name Défi – it rebranded in 2015 as part of its long-term strategy to enter new markets – the agency has had its sights on Europe since 2014. Its growth plans, as described in a company press release, involved first opening a new office in either Canada or the U.S., an "an essential prerequisite to crossing the Atlantic."

Camden acquired Montreal design firm CGCOM in 2016, before opening a Toronto office in November. Over the last few years, its headcount has grown from around 10 to approximately 50 employees, according to Dutton.

In Canada, Cyr says the agency will be prioritizing the Toronto office over the next year with the hope of growing its client portfolio, onboarding new clients and hiring more staff. But she and Dutton say opening more Canadian offices is currently not in the agency's short-term plans.

Its client roster includes TC Transcontinental and Intact Insurance, as well as well several professional associations in Ontario. Its acquisition of Les Distilleurs will see it take on French energy company Mint Énergie as a client.