Samsung gets into the smart speaker game
The company is prioritizing high-end audio as its Galaxy Home enters the voice assistant market.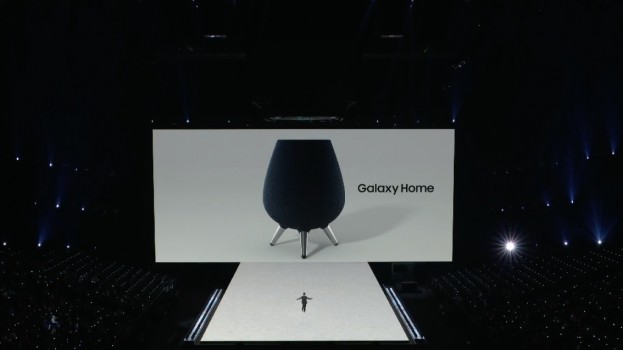 The main attraction at a Samsung event earlier today was the latest edition of its Galaxy Note phone, but it also featured the company's long-expected entry into the smart speaker market with the unveiling of the Galaxy Home.

The company claims to be combining "amazing sound and elegant design" in the speaker, which aims to deliver surround-sound style audio with six speakers and a subwoofer built in. Galaxy Home is also powered by the company's Bixby personal assistant, using voice recognition as its user interface, containing eight far-field microphones, so it can be controlled with voice commands from long distances.

Samsung has yet to release any information about a release date or pricing for Galaxy Home.

Galaxy Home will be launched into a marketplace that is currently being dominated by Amazon and Google. The Bixby assistant has not been as warmly received as other personal assistants, due to a lack of features compared to Apple's Siri, Amazon's Alexa or Google's Assistant, but last year, Samsung announced a number of changes to Bixby that would bring it to other connected devices in the home in an attempt to differentiate the assistant. That also seems to be part of the plan to get consumers to consider choosing Galaxy Home: the speaker has the company's SmartThings hub built in, meaning it can instantly connect to a range of other connected appliances that support the platform.

Samsung's speaker seems to be positioned as more of a competitor to Apple's HomePod, which was revealed with a similar emphasis on ease of use and being used as a high-end speaker for things like music – as opposed to the Amazon Echo and Google Home, which have a bigger focus on their respective range of AI-powered functions and applications.

Samsung didn't reveal what kind of smart capabilities Galaxy Home would have, beyond the ability to play music or connect to other SmartThings products.

Today's conference also featured details on changes to the newest version of Bixby. The assistant will be updated to be more conversational in nature, allowing users to ask follow-up questions and further details about an answer it gives, without having to repeat an entire question. It also includes new integrations with Yelp, Uber, Ticketmaster, Fandango, OpenTable, and Google Maps, allowing users to "tap in" to the apps that are relevant to a question they've asked Bixby, whether the user has them installed on their phone or not.