Sports Experts lends a helping football-sized hand
The Quebec retailer has football star Laurent Duvernay-Tardif take care of customers' everyday chores in a back-to-school campaign.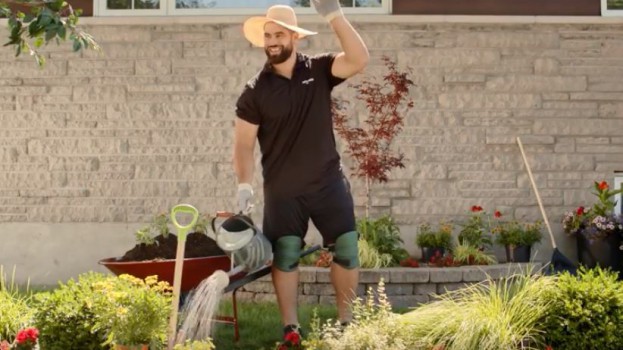 Once the school year hits, the list of reasons for putting fitness on the back-burner grows even longer. It's not so much the weather as it everyday time-stealers: laundry, driving the kids to school, cooking for the family, and so on.
And that perception of lacking time seems to be growing more acute in Quebec, according to research by sports retailer Sports Experts. Over the last 12 months, Quebecers conducted 121,000 Google searches that related to cramming exercise into busy schedules – a number that has grown by 15% since 2014, according to the brand. Consumers typed queries for things like, "20-minute workout," "get back in shape fast" and "no time for sports."
That research, in addition to comments gleaned from social media, were the starting point for Sports Experts' new back-to-school campaign, geared less towards children and more to the parents who are just as affected by the return of classes.
The campaign, by agency partner Rethink, features Laurent Duvernay-Tardif, a Quebec-born guard for the NFL's Kansas City Chiefs, who also recently made an appearance in an ad campaign for web hosting platform GoDaddy. Turns out, Duvernay-Tardif is not only a superstar athlete, but also a small business owner.
For Sports Experts, it was the player's commitment to helping others achieve their fitness goals that made him the perfect fit for the brand and campaign, says Patrick Lavallée, marketing manager at FGL Sports.
The campaign spot shows Duvernay-Tardif surprise three Quebecers with an offer to take care of their chores as they get back to what's more important: their fitness routines. Humorously, given his football-player build, Duvernay-Tardif is seen watering flowers, folding a mountain's worth of laundry (including tiny baby clothes) and cleaning the pool.
The ad is being deployed on social media, with a special focus on Facebook and YouTube, with Touché managing the media buy and Canidé supporting on PR.
Lavallée says Duvernay-Tardif has previously worked with the brand, including some PR-led in-store activations, but never in such a central way.
Recently, Sports Experts has been focused on supporting consumers on their fitness journeys. Late last year, it ran a "Thermal Discount" promotion in Montreal Metro transit stations, using an interactive screen to analyze body heat and to hand out corresponding in-store discounts.
As an added element of the current campaign, Sports Experts has partnered with fitness gym Énergie Cardio, food delivery company Cook It, on-demand housekeeping service Adèle on Demand, and catering shop Sushi à la Maison. In September, it will award a winner with more than 100 hours-worth of private training, home cleaning, ready-to-cook meals and a gym membership.