Newad brings digital precision to indoor out-of-home
Using tech to engage audiences, inform advertisers and elevate the industry.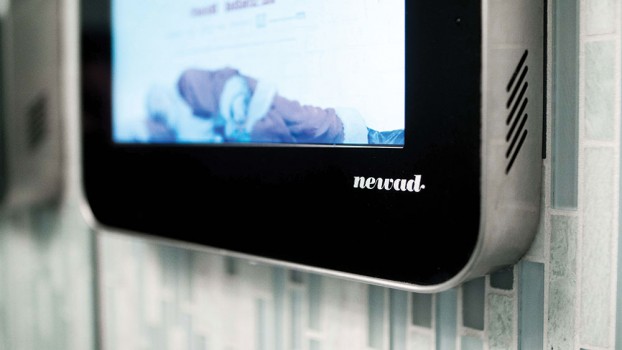 Newad is shifting additional inventory to digital formats to provide clients with better data and also invests 10% of its revenues into digital innovation.
The indoor Out-of-Home (OOH) advertising business was built on data that was a lot like the traditional inventory it sold: static. Info about who was exposed to ads inside a venue was often self-reported. A resourceful OOH media company might have surveyed people in these venues to get more detailed demographic data, but the information was rarely updated more than once a year.
The explosion of digital media has increased advertisers' expectations. OOH data must now be much more detailed and easily accessible. Newad stands at the forefront of that change, investing in new tech, converting a growing number of its more than 40,000 facings to digital screens, and providing clients with refined information about who is seeing their campaigns.
"Newad has been in the OOH industry for over 20 years," says Michael Reha, Newad's president and CEO. "We're not particularly fond of the term 'trailblazer,' but we think in this case, it is a good fit."
Newad launched in Toronto in 1995 and has since expanded through acquisitions and organic growth. With offices in Montreal, Quebec City, Vancouver, Calgary and Edmonton, the firm focuses on three major lines of business: restobars, arenas and campuses.
Reha says that these networks remain an effective way to reach Canadians at scale, since 86% of influential adults have visited an eat-in restaurant in the past month alone. People love to go out, and this isn't going to change any time soon. Clients are asking for more robust audience data and dynamic ads, and Newad is continuously evolving to meet those needs.
The company now reinvests approximately 10% of its revenues into digital innovation, says Reha. That means converting inventory to digital screens, upgrading the hardware that links those ad faces to ad servers, and finding new ways to engage venue patrons with a full-time R&D team. Tech is not only a priority, it also serves as a strong engagement tool. Newad recently added a new generation of motion sensors in its digital boards allowing a passerby to interact with an ad, selecting different colours when previewing a new car model, for example.
The ultimate goal with these latest efforts is to customize data moving in both directions along the media chain, which is obtaining detailed audience intel for advertisers, creating better ads to serve to consumers and maximizing the interaction between brands and their target audiences.
By way of example, a recent campaign for Transat leveraged data from its partnered establishments to serve World Cup-focused ads to specific bars during game broadcasts. Transat targeted Canadians of Portuguese, English and French backgrounds (three countries in contention at this year's tournament) by targeting venues that served as hubs for these communities in Toronto and Montreal.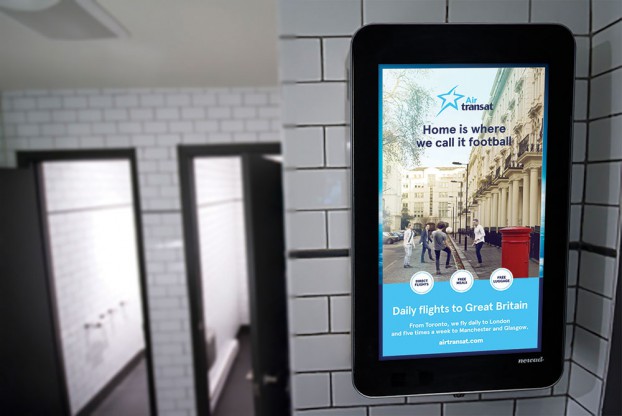 When it comes to feeding audience data back to clients, Newad is rolling out a new audience segmenting system driven by mobile data. Profiles are obtained from mobile devices that are seen within Newad's locations. Advertisers can now tap into a dynamic portrait of current behavioural insights insuring that they reach their target audience.

Perhaps the biggest innovation in Newad's business has come with the introduction of programmatic buying. Working with Campsite since 2016, Newad has been putting a growing percentage of its inventory up for auction through its Demand-Side Platform (DSP).

"OOH impressions being one-to-many instead of one-to-one, like online, clients expect the highest concentrations of their target audience. They want to monitor everything every day, just like they do online. Programmatic is the best way to deliver that," explains Marie-Christine Fournier, director, strategic planning and programmatic sales at Newad.

"There are new local advertisers who haven't considered digital OOH before, but are now looking to try it out." Reha adds. A recent report from Campsite showed that 55% of the advertisers which Campsite brought to Newad had never executed a campaign with Newad inventory before.

In that same report from May 2017 – one year after Newad partnered with Campsite – Newad reported a 9% growth in overall digital sales.

"Innovation is the key to success in this business," Reha observes. "And Newad is committed to keeping its business way ahead of expectations."

CONTACT:

Jean-Philippe Leduc

EVP, Client Relations & Business Development

jleduc@newad.com

More OOH news:
Intro: The new OOH bar
Astral's creative approach to innovation