Tech in Action: Wayfair mixes up reality, again
An app on the Magic Leap headset gives consumers another way to visualize furniture purchases in their home.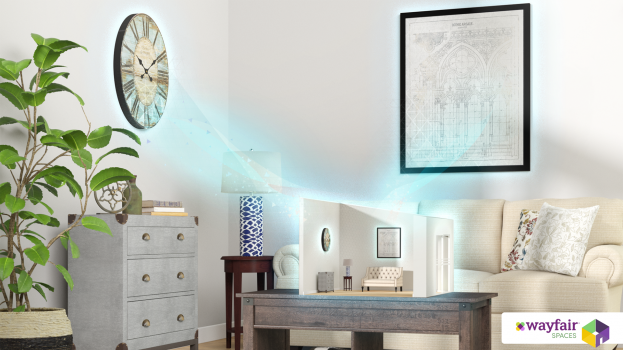 Augmented reality (AR) has found a solid foothold in the furniture and decor category, with several retailers launching apps that allow consumers to better visualize how products might look in their own rooms. This week, online furniture and decor site Wayfair took that idea to a new platform.

Wayfair announced the launch of Wayfair Spaces, an app for Magic Leap One, a headset that uses light projection into the user's eye to create highly realistic looking AR images. The app will present users with images of different rooms styled and curated by Wayfair, giving them the option of exploring the rooms and then pulling products out into the "real world" so they can see how they look in their own home. All objects automatically scale to be true to size, and users have the option of pulling up further product information and reviews as they explore.

Wayfair has previously offered other "product visualization" capabilities using mixed reality, including through shopable AR ads on Facebook. It first worked with Magic Leap earlier this year when it announced it would be launching an ecommerce experience on Helio, a web browser designed for the headset that would create a shoppable, AR experience in ecommerce.

Wayfair is not the only home furniture company to get into the AR space. Competitor IKEA has been experimenting with AR for years, releasing IKEA Place last year.

In a press release, Steve Conine, co-chairman and co-founder of Wayfair, said the company has been focused on 3D imaging and mixed reality because of the importance of visualization and discovery to the shopping experience, especially when it comes to purchases for the home.