Article launches first TV campaign
The direct-to-consumer furniture retailer adds to its marketing mix with two spots that focus on convenience.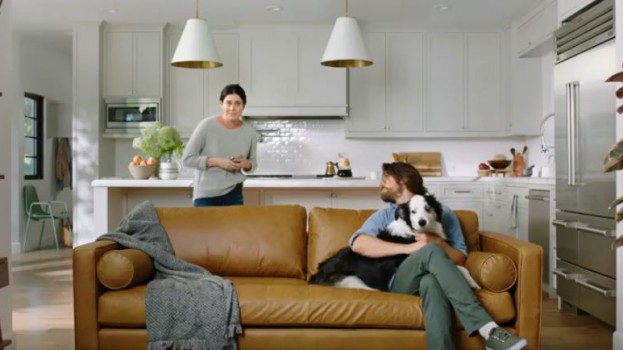 Vancouver-based online furniture retailer Article has launched its first TV campaign, expanding its channel mix beyond digital and podcast ads.

In a recent interview with strategy, Duncan Blair, director of marketing at Article, said launching into TV advertising was the "logical next step" for the retailer, which was named Canada's fastest-growing company in 2018. It had typically spent mostly on digital ads, and only recently got into podcast buys.

In the first spot, "How to break up with your sofa," a woman is seen parting ways with her sofa ("It's not you; it's me"). The ad then goes on to show her selecting a new couch from the comfort of her home, using her mobile phone to pick from a variety of fabrics and colours. When a man and his dog land suddenly on a brown leather sofa, she declares having found the perfect match: "When you know, you know."

The second commercial features three women sharing their experiences using Article to help decorate their homes. Among other things, they explain having enjoyed the ease of purchase and the quality and aesthetic of the items on offer.

The ads began airing on Nov. 12 and will continue rolling out over the coming weeks. They are appearing only on TV in the U.S., the company's largest market, and receiving digital support both in the U.S. and Canada.

Blair says the insight for the first spot was that Article helps make decorating the home easy and convenient. The thought of buying expensive items like couches or kitchen tables online without seeing them first can be a frustrating and anxiety-ridden process for many customers. The spot aims to show, in a lighthearted and accessible way, how Article can help turn those painful shopping experiences into easy and enjoyable ones.

With the campaign's second spot, "Why do customers buy Article furniture," the brand is targeting some of the same pain points as the other commercial, while sharing everyday stories of Article customers who have enjoyed the experience. Blair says one of the brand's strongest marketing channels to date has been referrals, as 75% of its customers have referred the company to at least one friend.

Article worked with Near Future on the creative concept and production. The team is handling digital media buy internally. With around a 40-person internal marketing team, the brand has traditionally handled most of its advertising in-house.

Between them, the commercials feature women almost exclusively. But that was less about wanting to speak to women specifically, and more about having used real customers who were willing and available to share their experiences, says Blair. The woman in the breakup spot was cast, while those in the second ad are actual customers. "We felt as though the three women featured had experiences that were relatable to all of our customers," he says.