Get a look at who landed on the SIA Awards shortlist
Rethink and Zulu Alpha Kilo got the most nods amongst a list of campaigns from 18 other agencies.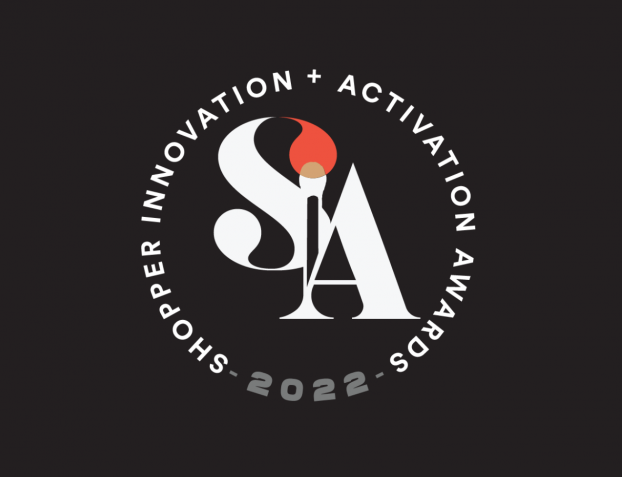 Judging for the 2022 Shopper Innovation + Activation (SIA) Awards is complete. Fresh looking trophies are being molded. The virtual show is under production. And the shortlists are out.
The list below represents the 45 campaigns that made it to the SIAs final live judging round, where many of them (but not all) went on to medal a Gold, Silver, Bronze, and/or a coveted Grand Prix.
Not suprising, Rethink and Zulu Alpha Kilo both racked up the most nominations (15 for the former and 8 for the latter), a trend we've seen on recent shortlists like the One Show and ADC.
The other 18 agencies that received high scores from the online jury include: Agence Bob, BBDO, Citizen XM, Citizen Relations, ContoBox, DonerNorth, FCB, iGotcha Media, Gut, John St, Leo Burnett, The Mars Agency, McCann, OneMethod, Touche, UM, Wunderman Thompson, and Zerotrillion.
Winners will be revealed during a live virtual presentation on May 11. Stay tuned for more information on where and how to catch the show in the next few weeks.
2022 Shopper Innovation + Activation Awards nominees
"How To Patio" Re-Training Program
UM Canada & John St.
Boston Pizza
A Grain of Everything
Leo Burnett Toronto
Kellogg's
Barrier Breakers
FCB
BMO
Bruised Fruit
DonerNorth
Interval House
Bugs Out!
Touché
Wilson
Campbell's Compostable Recipe Bags
The Mars Agency
Campbell Company of Canada
Colours of Pride
Rethink
Fondation Émergence
Come & Glow
Zulu Alpha Kilo
Consonant Skin+Care
Cristiano Ronaldo Water Bottle
Rethink
IKEA
Feed The Dream
BBDO Canada
Sobeys
Feed the Dream Tablecloth
FCB
Sobeys
Flexible Fabric Shades – Healing For All
UM / J3
Johnson & Johnson (BAND-AID)
Food Rescue
BBDO Canada
Sobeys
Global Footwear Experience
iGotcha Media
Canada Goose
Green Screen Shirt
Zulu Alpha Kilo
Harry Rosen
Heinz Bottleneck
Rethink
Kraft Heinz
Heinz Crowdsauced
Rethink
Kraft Heinz
Heinz Hot Dog Pact
Rethink
Kraft Heinz
Heinz Tomatina
Rethink
Kraft Heinz
IKEA ScrapsBook
Rethink
IKEA
IKEA Sustainability Platform
Rethink
IKEA
Levi's Double Portal – Cure For Joyless Shopping
UM Canada
Levi Strauss Canada
Lost Tapes of The 27 Club
Rethink
Over The Bridge
Men's Grooming
Zulu Alpha Kilo
Harry Rosen
Meubles à vin permanents Provigo et IGA
Agence Bob
Vins Arterra Canada
Mindsets
FCB
CDSS
Molson Hockey Night In Canada, Multilingual Edition
Rethink
Molson Canadian
MU Running
FCB
Michelob Ultra
Niagara Falls Live
Zerotillion
Niagara Falls Tourism
Notes IPA
Zulu Alpha Kilo
SingleCut Beersmiths
Orders of Sacrifice
Zulu Alpha Kilo
HomeEquity Bank
PC Holiday Insiders Report Living Page
CitizenXM, Citizen Relations,
& Loblaw Agency
Loblaw Companies
Predictive Prospecting
Contobox
The Home Depot
Ratesdotca Launch Campaign
Zulu Alpha Kilo
Ratesdotca
Receats
OneMethod
Good Fortune
SickKids VS: Monument to the Brave
Citizen Relations
SickKids Foundation
The Immortal Poppy
Wunderman Thompson
Royal Canadian Legion
The Stanley Cup Batch
Rethink
Molson Canadian
The Wendy's Phone
McCann Worldgroup Canada
Wendy's
Timbiebs
GUT Toronto
Tim Hortons
Tough Turban
Zulu Alpha Kilo
Pfaff-Harley Davidson
Wait For Heinz
Rethink
Kraft Heinz
Wall For Women
Rethink
YWCA Metro Vancouver
Wilderness Set It Free
Zulu Alpha Kilo
Subaru Canada
Your Cheers Their Ears
Rethink
Kraft Peanut Butter