Articles Tagged 'Melanie Teed-Murch'
President shuffle at Toys 'R' Us, Walmart and Reitmans
New leaders will helm the retailers as they face increased competition from online players.
Behind Toys "R" Us and Mattel's retail partnership
How the toy retailer and toy manufacturer have worked together to ring in Barbie's 60th.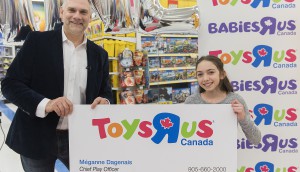 Toys "R" Us evolves chief play officer role for digital age
The toy retailer's fifth child ambassador will lend authenticity to the brand through a more robust social and digital presence.
Targeting the next gen of Toys "R" Us kids
The toy retailer reminds Canadians it's still open for business with its first marketing push since its U.S. parent company went under.