Targeting the next gen of Toys "R" Us kids
The toy retailer reminds Canadians it's still open for business with its first marketing push since its U.S. parent company went under.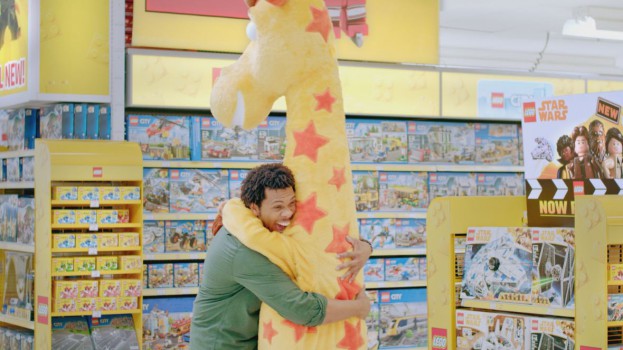 Following the demise of its U.S. parent company, Toys "R" Us Canada is vying to reinvent itself in the minds of consumers, many of whom remain unaware that the brand is still open for business in Canada, says president Melanie Teed-Murch.

Toronto-based Fairfax Financial completed its $300-million acquisition of the company in June, keeping its 82 Canadian locations open. Meanwhile, all of 735 U.S. locations have been permanently closed since June after the company failed to find a buyer. In Canada, it continues to rake in revenues of more than $1 billion, but there are challenges to having a sprawling and aging bricks-and-mortar presence, especially when fending off competition from online retailers such as eBay and Amazon.

So as the operation under new ownership looks to gain momentum with Canadians, it's playing the nostalgia card – one that is strategically not in the hands of younger ecommerce giants.

Last week, it unveiled a refreshed version of its 1982 jingle which Teed-Murch considers to be one of its biggest brand assets. Working with Corus, the company's internal marketing team (led by VP of marketing, PR and ebusiness Frank Juhasz) used the jingle as the centerpiece of a new holiday-timed campaign designed to remind customers of the heritage and longevity of the brand. It's the first real marketing the company has done since the Fairfax takeover, and it comes a crucial time of year for any retailer.

In addition to revitalizing dated brand assets – a new company logo includes a maple leaf, and popular mascot Geoffrey the Giraffe remains very much a part of the mix – its first marketing push aims to address its biggest challenge: brand awareness is already very high, at around 99%, but that hasn't stopped news coverage of its American counterpart's financial troubles from confusing Canadians about its current status north of the border. In fact, Teed-Murch toured the country for two months earlier this year just to let people know the brand is here to stay. "We're not new in this business," she says. "We are the Canadian toy and baby experts."

Leveraging the nostalgia of a decades-old jingle is meant to help reconnect not only with children, but also their parents, who were likely "Toys 'R' Us kids" (the oft-cited line from the retailers' classic jingle) themselves, says Teed-Murch. Moving forward, the retailer will be looking to position itself as something of a parental mentor by using PR tactics to educate parents on the importance of play in children's lives. The toy retailer hopes that will encourage families to stop by a physical store and hang around a while – perhaps test-drive a toy at one of the demonstration tables.

"Our purpose and mission with this company is to bring moments of joy to Canadian children and their families," says Toys "R" Us Canada's president. "It's a very simple one, and we want to return to a time that we unwind kids a little bit, we give them the opportunity and the permission to be less scheduled, to have a destination with a company for experience around play."

Like many bricks-and-mortar retailers, Toys "R" Us Canada plans to continue working to build a seamless omnichannel experience for customers. Part of those plans include investments in its digital, mobile and ecommerce platforms next year. Teed-Murch has also previously hinted at the possibility of looking at a food-service partnership, as well as finding ways to make the store experience more educational via workshops and other activities.