Go to the edge with NABS
Industry professionals raise money by completing the new CN Tower attraction.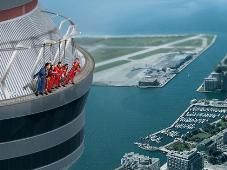 Industry professionals, including people from Adbloc Media, Aecon Infrastructure Group, Dentsu Canada and the Ad Club of Toronto may be among the first to experience the CN Tower Edgewalk in support of NABS.

Each team participating in the Dare4Nabs walk must raise $5,000, to help the organization reach its goal of $25,000.

Too scared to take the CN Tower Edgewalk? You can support the daredevils by donating at Dare4nabs.com, or by purchasing a ticket to congratulate them at the after party, happening Aug. 2 from 1 to 6 p.m. at the Steam Whistle Brewing Roundhouse.

NABS is a charitable group providing assistance to people in the communications and related industries who may need help due to illness, injury, unemployment or financial difficulties. The organization is 100% industry funded and relies on money raised at events like Dare4NABS.