Sahara Blog: Day 1
Stefan Danis blogs from the desert as his team races to raise money for NABS.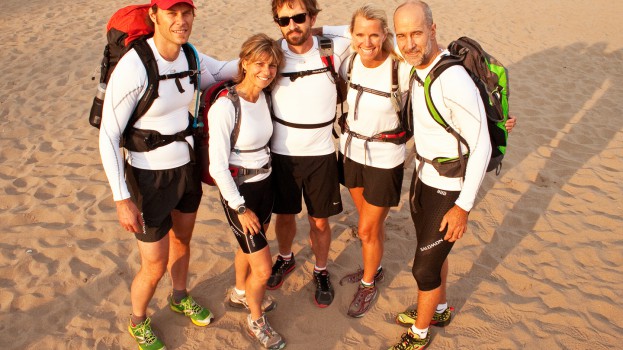 Mandrake CEO Stefan Danis is racing across the Sahara with a team of eight Toronto marcom executives to raise money for NABS. His team came in 2nd on the first day, just 4.5 minutes after the team currently in the lead. Over $91,000 has been raised so far. Follow his progress as he blogs about the experience…

Day 1 Strategy: Observe & learn, and try to go for the W

I am ecstatic, our colleagues from NABS are all in. Dusted but in, last one was in by eight hours, first just under six hours I think. I was weepy eight times greeting them at the line. All you runners know what it's like to cross the finish line and get the "double hug," as my daughters call them. I felt like papa! I was field marshall for recovery procedures; carry gear to tent, take shirt off to dry to avoid the bad smell, blow up the mat, ensure their feet are up to minimize swelling and ensure one litre of recovery is ingested within 30 minutes. And somehow, regardless of how beaten up everyone is, that routine is the tonic to amaze oneself that it will be possible to go at it again tomorrow.

We had heroic performances. We had athletic ones. All in 46 degree heat; absolutely brutal – has anyone tried to run in that heat? I vividly remember 50 in the Gobi on Day 2 but the sand was harder packed. And the sand was definitely the softest I've seen on flats. You can read their blogs to find out more; I don't know how Anne-Marie willed herself to the finish, but she is our heroine; she had to endure more heat, consume more liquids. I wouldn't be able to do it. Sandy was also an inspiration; she is a gifted runner who experienced first-hand what running in sand is like – deserts can take more out of good runners as they have pace and gait that has been repeated forever and all of it is thrown out the window here. Tent #3′s powerhouse was Alison Simpson; she leads the women overall and by a good margin. I'm so happy for her. She has 29 marathons under her belt; 35 by Saturday! She is the one that inspired me to do urban running when I travel; a great way to see the world's cities like I did in Jerusalem last week.

On the team side. I admit I was apprehensive – the most I ran in the past 18 months was 25 km so there were question marks for me. We know Sophie is the most accomplished ultra-runner and Ernie is the fastest. Today, it all worked out as per our strategy so we got lucky. We marked the Italian team and ran with them for the first 7 km. We were hoping to be within visual and try to make a move in the last 10 k if we had it in us. One fellow needed to relieve himself and we decided to pass them, 30 km earlier than expected. From then on, we were prey. We got to Checkpoint 1 and were congratulated for our performance; "Great job guys, you're in second place" the person on duty said. "Pardon me?" I asked, incredulous. "Yes the Spanish team was here 15 minutes or so ago." No sight of them, and strong runners two minutes behind. We were squezed in and felt victimized. How can this be a team signing up last night? We didn't know and aren't impressed, all our prep was about another team. Anyway, the desert is all about dealing with the cards you are dealt and adjusting quickly. We worked so hard to try to catch them and not be caught.

At Checkpoint 3, we were about eight minutes behind and by now they knew we were coming. Til then Sophie had been getting steadily stronger, she says she is a slow starter and the meaner, softer, hotter it got, she got faster. Ernie as usual was managing the front and the pacing, poor guy, he can't find a rythm with slower runners, so he accelerates to the allowable distance limit of 25 m and then brisk walks as we catch up. Prior to Checkpoint 3, I started having serious groin and knee issues and twitching muscles I didn't know I had – tiny little leg muscles. It was very odd, and luckily the pain was acute for 20 minutes and it disappeared; I think I was dehydrated.

At Checkpoint 3, I had a surge of energy, it felt like I had found a zone. We had agreed on our communication protocols and in the heat of the moment, I rushed Ernie who was then in pain. Everyone has a routine and when we get to a checkpoint, we hadn't discussed our preferred styles. I could smell blood and wanted to go after the leaders, time was running out. Thoughtless on my part, we needed to clean it up after the race. That's team sport.

We made ground and could now clearly see them and slowly reeled them in. Then I ran out of gas and finished on fumes while Sophie was getting stronger, and Ernie had dug down and found new energy. He paced us almost all day and that job is not easy; he offered me the baton today and I didn't have the energy to take it. We are approximately four minutes behind the Spaniards; and we are so lucky to witness a lioness in Sophie. Were she running the Female category, she would be first by an hour. Same happened to her when she won the team event in the Gobi. Ernie and I had discussed our wish to see her win the virtual Women's event and we even discussed imploding our team if we were going to get smoked in the team competition and not be in contention. With Alison now in the lead, that is quite a moral conflict! So might as well try to win the team competition…

It is a real privilege to run against incredible teams. They will force us to find out what is possible for us. Some amazing developments also occured today. Louie Santaguida who ran Atacama with Ernie and I blew by. I am so thrilled for him – he came in 10th place overall. We saw him early in the race and then he went. I giggled, he declined running with us to avoid slowing us down! He is an amazing guy with very good genes and a tougher mind. Mehmet Danis, my ultra hero and main source of inspiration, is also in my tent. He is the most generous soul, helping all of us as well as the NABS tent. He is here to try to win the overall. Two years ago, he was leading after two days and got sick, finishing 17th. I bow to all the guys at the front; they have a pain treshold I can't even comprehend. Mehmet was staying positive, he is in third place. I think he finished almost an hour in front of us around 3:45. He is smiling and cracking jokes and it meant the world to me to finish and have him give me the double hug. I found Mehmet online as a Gobi finisher in 2009 and he has taken me under his wing ever since, freely sharing what I need to know, which in turn I have been able to share with others on this campaign. There is a lot of good karma with Mehmet, Louie, the NABS crew, and our team.

Send some words of encouragement to them, they suffered like they never have. David Gibb of JWT is sending an email next to me as I blog. He has completed 10 marathons and simply said, "The toughest day running in my life; beyond anything I could have imagined." I didn't say anything and then he stated the obvious "and still five marathons to go."

Tomorrow is a new day for us, we learnt a lot from each other as we have never run together before as a team. When I was in pain thoughts about tomorrow completely overwhelmed me. You can't think ahead. Just be in the moment. On that note, I will go and pop a bottle of champagne (need to shed weight from my pack) and have a cigar to celebrate an amazing day with friends. That's after we pop some nasty blood blisters to let our feet heal.

Thanks for the email and words of encouragement.

Carpe diem

Stefan

Read more about Danis' journey on his blog at 4deserts.com, and learn more about the cause or donate at Running4NABS.com.