No place like Holts
Alix Box, SVP of sales and marketing, is attempting to duplicate Holt Renfrew's record sales year with an increased focus on in-store adventure.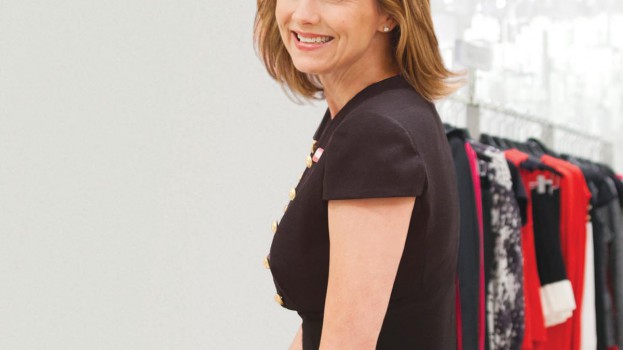 The shop windows at Holt Renfrew trumpet "There's no place like Holts." For Alix Box, SVP of sales and marketing, this new brand positioning is more than just a tagline – it's a call to action.
Last year was a record-breaker for the privately held retailer, with sales reported to be up 10% from 2009 (Holt Renfrew confirms "double digit increases" but won't comment on specifics). Box says the company anticipates even stronger growth in 2011, with gains expected in both sales and profits. But to keep this momentum going – especially as U.S. competitors like Intermix creep across the border and The Bay takes aim at affluent shoppers – differentiation is key.
For Holt Renfrew, this means offering an in-store experience that can't be found elsewhere, complete with exclusive product lines, talk-of-the-town events (like Jean Paul Gaultier's first Canadian appearance, which happened in June) and a dash of star treatment for everyone who walks in the door.
"There's no place like Holts" captures what the brand's most active customers say about the store, Box explains. Developed and executed with Capital C in Toronto, the positioning launched this summer via store signage and windows, and will become more visible throughout the fall.
"It's a great way of demonstrating the emotional connection we have with our customers," Box says. "At the same time, it sends a really warm and welcoming invite to those who might not visit us as often."
Warm and welcoming may not be the first words that jump to mind when consumers think about the 11-store luxury retailer – at least not for those without a trust fund – but ever since former Canadian Tire exec Mark Derbyshire took over as president in January 2010, Box says there's been an increased focus on making customers feel at ease.
For instance, name badges were introduced last year, which Box says is "a small mechanism, but [one that] goes a long way to breaking down that barrier."
"There's also a sensory piece," she continues. "Do I see someone demo-ing fragrance? Is there a chair at the Bobbi Brown counter with a customer in it, and a makeup artist making them feel great? Are the sales associates being attentive?"
The in-store music mix has been tweaked, too, replacing stuffy instrumentals with more contemporary tunes, which Box says has been a hit with customers and staff alike.
There's also been an increased emphasis on in-store animations, ranging from a self-serve candy cupboard to real-life cupids strolling the shop floor on Valentine's Day – efforts that don't contribute directly to the bottom line, but make the store a more exciting place to shop.
"We're not a department store, we're a specialty store and we offer unique experiences –I call it the treasure hunt," Box says. "Our customers are very cosmopolitan, they shop abroad, and yet there's that relationship that brings them back to Holts."
With the holiday season just around the corner, Holt Renfrew is preparing to ramp up its in-store antics even more. The holidays are key for any retailer, and Box says the season typically accounts for 30% of store sales.
"The holiday season really helped catapult us to having a record year [in 2010]," she says. "We hit our targets a full month before the year ended."
Last year's "Happy Christmas" was also the store's first fully integrated marketing campaign, which was recognized by a Retail Council of Canada award for its strong and consistent message across print, online, PR and in store. Campaign creative played up the excitement of receiving a gift in Holt Renfrew's iconic magenta box, while the store environment tapped into the social aspect of the season, with choirs singing and pianists stationed at grand pianos.
This year's campaign promises "Happy Christmas on steroids," according to Box, with more in-store activity, a thicker holiday style guide (with 120 more gift items than last year) and pop-up shops from Paul Smith and Burberry.
For the first time in the retailer's history, Holt Renfrew's famous magenta bag will be emblazoned with a holiday message. A more eco-friendly, fully recyclable version of the bag will also be introduced in late fall. (The current version is recyclable only once the cord handles have been removed.)
This fall has also seen the retailer launch a charitable partnership with Michael Kors, selling 10,000 leopard-print cashmere scarves for $50, with proceeds going to the Canadian Breast Cancer Foundation. Holts previously partnered with Marc by Marc Jacobs and Canada Goose on similar programs.
The $50 price point and charitable focus make the scarf an ideal welcome item for new customers, Box says. Launched in mid-September, it was available for purchase online a week and a half before hitting stores, with Facebook and Twitter as they key channels for getting the word out.
While Holt Renfrew's interest in the digital world is growing, it isn't new. In 2009, the retailer paid tribute to fashion bloggers from around the globe (including Toronto's own Anita Clarke) with national window displays, and hosted a visit from fashion photographer and blogger Scott Schuman, the man behind TheSartorialist.com.
Now the store is preparing to unveil its very own fashion blogger, a strategy that's been developed in consultation with Capital C and will call upon the strengths of digital agency Nurun. The blog will debut during the holiday season, with tips on party hosting and what to wear, as well as gift ideas.
"Our customers have said they want to engage with us that way," Box says, noting that a blog will help them reach style-savvy shoppers who may not have tried Holts yet.
The brand has recently added a social media content manager to its digital team, who will help build up the blog.
Talking to more of the store's customer base more often, across all touchpoints, is a priority for Box.
To this end, the frequency of the e-newsletter has been increased to twice a week, segmented based on gender, product availability and relevance to the particular market.
The approach to print has also been refined. In previous years, the store sent out luxe coffee table books twice a year, reaching an audience of 50,000 each time. Now they've switched to style guides, issued six times a year, with a print run of 500,000.
The results so far have been promising. "We're seeing lapsed customers return, we're seeing customers come in more often, and at the same time our high-value customers are coming even more often," she says.
It's worth noting that the boost in store sales and visits has come alongside a management decision to do away with discount pricing.
"We became less promotional and drove more full-price sales by creating other compelling reasons for customers to visit the stores so we can make them feel great and look good," Box explains.
The management team has put together a five-year plan, she says, and so far it appears to be working. But the real challenge will be maintaining that growth.
"[You have to be] bigger and better every year," Box says. "That's the game in retail, you always have to lap yourself, and figure out how to do more. I've always lived under the mantra, 'Success breeds success.' It really inspires people to do even better."

Bio

Born: Winnipeg, MB., Nov. 20, 1959
Education: Box completed a BA, followed by a Bachelor of Education, at Queen's University, and originally planned to become a teacher.
Career: From 1997 to 2007, Box was the
VP of operations for Starbucks in Canada. She joined Holt Renfrew as SVP of sales and operations in 2007, expanding her remit to
SVP of sales and marketing in 2010.
Size of team: She oversees 1,825 employees in total (including the store selling team), with a Store Support Centre Sales & Marketing department of 50.