Sahara Blog: Day 3
Stefan Danis and his team find optimism in the desert on the third day of their race for NABS.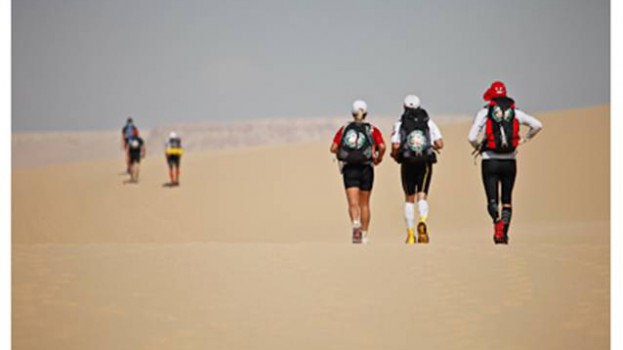 Mandrake CEO Stefan Danis is racing across the Sahara with a team of eight Toronto marcom executives to raise money for NABS. Follow his progress as he blogs about the experience…

Humbled

Everyone is in and the emotions range from "this is extraordinary" to "can't wait for the slaughter to end." Today was the toughest day yet, more sloppy sand, therefore more time in the desert, meaning more sun baking. Think of it as the physical breakdown that happens slowly until it is too late. I told Mehmet it felt like I had a fever two or three times today, waves of fever going through your body with shivering and all. "Yup, your brain sends your body temperature regulation signals to cool down the house" he said. At sunset, as we did yesterday, a few of us – Pat, Mehmet, Anne-Marie, Gav, Alison, David – went to the dunes behind the camp; sheer beauty, absolutely magnificent, the Sahara in all its splendor, wind-shaped.

I'll skip details as I got to the cyber tent late and they are shutting down. I had a hour of self-surgery last night while a few tent mates were snoring up a storm. I sedate myself with sleeping pills then I get up at 430 a.m. to start my eating ritual including coffee. I'm alone with a couple of Japanese guys and we eat with our headlights on. I have felt ready to compete every morning.

The first leg was unbelievably beautiful, massive rolling waves of sand – "Laurence of Arabia" said one of the Italian runners. We ran with them taking pictures of each other. They are fast and we ran the first 10k in an hour which in these conditions is very fast. By then, 30 seconds behind, we were done. I don't know if you can relate, and reality stares at you and tells you no, not today. It's hard to come to that realization early. I always think if failing is inevitable, better to fail quickly than slowly to avert all the unnecessary pain that comes with the experience of things not working out. I appreciate the experience but… today, that realization came too early and I started thinking we wouldn't be able to pull this off until the long 90 km day, and that would require a miracle in and of itself. As my friend Nancy Vamvakas said in an email, "God does his best work in the desert."

Mehmet, ever the optimist, shared that two years ago. Paolo who leads the Italian team won the overall race and entered the long day in 4th. So anything can happen. It just felt like it slipped away; we have put so much into it. It is all relative; Mehmet is in the same situation, re-framing to making a 3rd overall feel like a win. Life is tough when you have expectations; my previous two campaigns, I had none but to finish.

Another experience was feeling like I had a lot of fuel and to have to dump it out of the tank, not to be used today.

It was interesting; it took me 15 minutes or so to choose the beauty of it all. Day 3 was not a technical course, flattish, relatively speaking, without huge ascents which tend to favour them as a team. When it is technical, we gain ground, when it is pure running, they are in another league.  Once I made peace with the day I found a way to truly enjoying myself, pinching myself with the serenity of it all, despite having thrown in the towel. Funny, then the team got energized and I was the laggard. I almost felt cheated; it took me a while to try to get back into it; I had worked hard to experience a different day and now that had to change. Even though it was the right thing to do and I am very proud that we did give it our collective best, every minute counts – crazy we had started the day as the leaders by 90 seconds after two marathons. Image chasing down someone who has robbed you for seven hours – that's what we did.

They beat us by about 30 minutes and hats off to them. I had a moment at the last checkpoint as I checked the hand written time gaps and saw that their last man was 45 seconds behind, meaning the team was detached. It is in my mind impossible to be within 25 meters of each other at all times and yet show up at a checkpoint 45 seconds before your last member. It was disappointing to have to see the pit crew try to defend what was plainly obvious on paper but we had to let it go; rise above it and try our best tomorrow – best team won today.

You need days like this to appreciate how precious being in the lead is. We had it yesterday. It is a passing moment and I should always stop to enjoy it a bit more. Metaphor for life.

When all was said and done, we had tons of giggles in the tent which reminds me of how amazing my Gobi tent-mates were and how great Clancy was in Atacama.

Miraculously the ward is full but people are moving around after a couple hours of recovery. There is a broad range of emotions in the NABS tent, there is suffering beyond anything they likely ever experienced. Send them your care, we are all incredibly touched by the support and care messages we are getting from home. Thanks for so generously sending message to me and others, you have no idea the impact of it.

Got to go, time is up and my feet have just ballooned.

Carpe diem

Stef

Read more about Danis' journey on his blog at 4deserts.com, and learn more about the cause or donate at Running4NABS.com.